A wanted criminal who taunted police on their own Facebook "catch me if you can" has been arrested.
Logan Rhys James, of Caerphilly, south Wales, had been on the run for a week after being recalled to jail for breaching his licence.
Gwent Police posted the 19-year-old's mugshot on social media with an appeal for information on his whereabouts.
Just hours later a comment appeared, from James' profile, on the forces' Facebook page saying: "Haha catch me if you can wont (sic) see me slipping".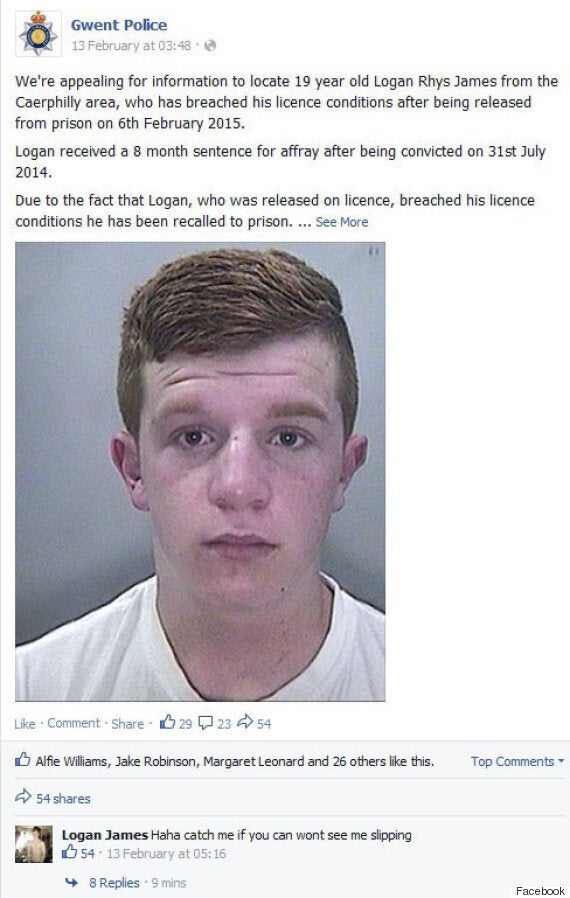 Screen grab from the Facebook page of Gwent Police of wanted criminal Logan Rhys James, of Caerphilly, south Wales
However, the teenager didn't live up to the cocky boast - and was arrested in his home town.
A force spokesman said: "Logan Rhys James, was arrested in Caerphilly this evening. He is currently in police custody."
Facebook users took delight at the news - which received more than 600 likes on Gwent Police's page.
Michael Tyler wrote: "Hahaha... looks like the numpty was 'caught slipping' after all."
While Kevin Pearce added: "Bet he will be sobbing in his cell. Well done Gwent Police."
Police said James had been given an eight month sentence by the courts for affray in June last year.
Related