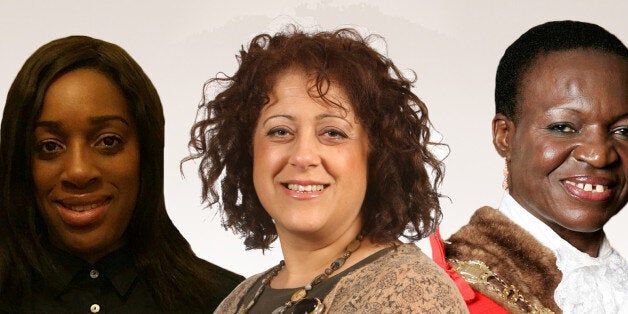 The Labour Party has, for the first time, drawn up a constituency shortlist made up entirely of women from ethnic minorities.
Next week the local Labour Party in Edmonton, Greater London, will choose its parliamentary candidate for the election in May from a shortlist of three: Ayfer Orhan, Kate Anolue or Kate Osamor.
In the run-up to the selection, the local party had been urged to select both an all-women shortlist and an all-BME shortlist. In the end it chose to do both.
Sadiq Khan, the shadow justice secretary, has welcomed the move and suggested Labour should consider hybrid "all-ethnic minority and all-women shortlists" in other seats.
The Edmonton seat became vacant after the incumbent Labour MP, Andy Love, decided to call it quits in 2015. Love won a majority of 9,613 votes in 2010, suggesting whoever becomes the Labour candidate will win the seat on May 7.
The 2010 election produced a parliament where just 26, or 4%, of the 650 MPs were from an ethnic minority. All of the ethnic minority MPs were either Labour (15) or Conservative (11).
There are currently 148 female MPs in the Commons. 2010 also saw the first three Muslim female MPs elected, all of them Labour: Shabana Mahmood, Rushanara Ali and Yasmin Qureshi.
In 2005 the Labour Party selected an all-BME shortlist in Brent South, it comprised two men and two women.
Unlike the other parties, Labour currently uses all-women shortlists to make local parties in some seats to choose a women to be its parliamentary candidate.
Khan, who also speaks for the party on London issues, told The Huffington Post the Edmonton shortlist was a "welcome step forward for our party" - and indicated he would like to see it compulsorily repeated in other seats.
"To address the chronic under representation of women and BAME MPs I am in favour of exploring the idea of hybrid of all-ethnic minority and all-women shortlists, to ensure that our candidates reflect the communities they seek to represent," he said.
"With 12 target seats, London holds the keys to Downing Street. I am delighted that we took the time to select our most diverse and talented group of candidates ever in these seats - 70% are women and 40% are from BAME communities. Not only do they reflect London's diversity, but most importantly, they are all firmly rooted in their local communities.
He added: "Our first ever all-women and all-BAME shortlist is a welcome step forward for our party, and for our city, and I look forward to joining the successful candidate on the campaign trail and to Parliament after May 7th."
Related