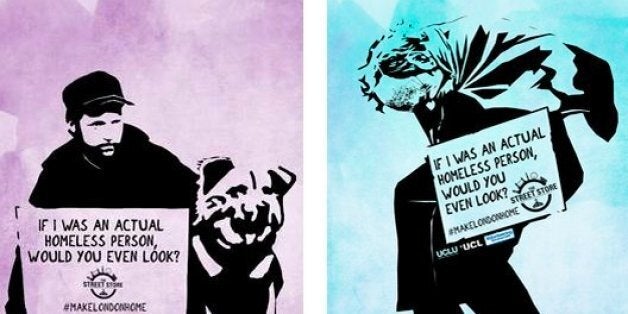 A team of more than 50 student volunteers are launching a pop up street store to provide free clothes to the homeless, which will be a first for the capital.
The Street Store, which has been taken up by students at University College, London, will arrive in Islington on 28 February.
The store is the first premises-free, pop-up clothing store for those that live rough to ever grace the streets of London.
Using cut-out cardboard posters to create hanging space for donated items of clothing, the project - originally pioneered by M&C Saatchi Abel in Cape Town, South Africa - will offer clothes and fashion accessories for homeless people to browse and keep, alongside a selection of free hot food.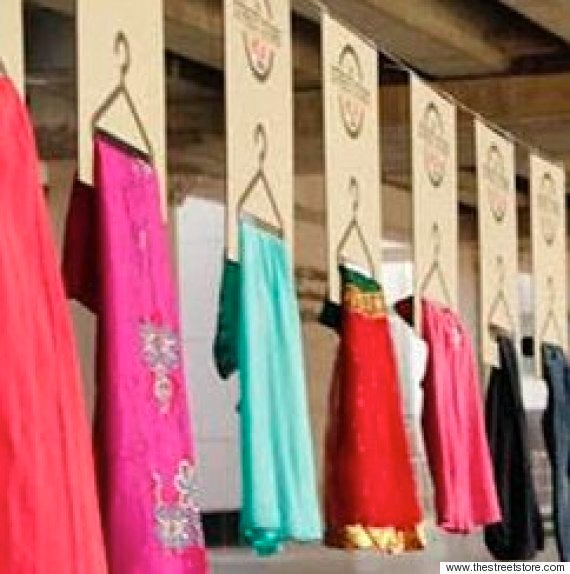 A few colourful examples of the clothes on offer at previous Street Store events
With free tickets being offered to local shelters for distribution amongst the homeless, the organisers expect around 300 visitors to attend.
The scheme aims to both redress the stigma of homelessness in London and also benefit the homeless on a personal level, explains Liz Nguyen, the project's leader.
"Many students and Londoners complain about increasing rents, while ignoring homelessness and dismissing it as something the government should solve," she told HuffPost UK.
"We passionately want to change London's perspective of homelessness, instilling a more positive attitude, while giving back to the community we are privileged to work, study, and live in.
"We believe the clothes we choose to wear is the way in which we see ourselves. For many of our visitors it may have been a long time since they were able to choose their own clothes – rather than take what they are given – making this a truly empowering experience."
For those desiring to donate, the organisers have told the Huffington Post UK that they "wish to prioritise male winter clothing. As over 80% of rough sleepers are male aged 26 – 45, we think that the majority of the event's attendants will be male and we would like to provide them with the best quality of clothing.
"We would like to run The Street Store London as a University College London's students-run volunteering project every year and hopefully, every few months," they added.
"However The Street Store is an open-source project for anyone to apply to. This means that anyone could set up a Street Store to help the homeless in their local area."
Further details of the event, a chance to donate to the project, and information regarding setting up one's own street store, can be found here.