Last week, with the film safely in the can, and cinema owners already counting the record-breaking number of ticket stubs sold in advance of the film's release, Sam gave a full and frank account to HuffPost UK of the "really challenging" time she had.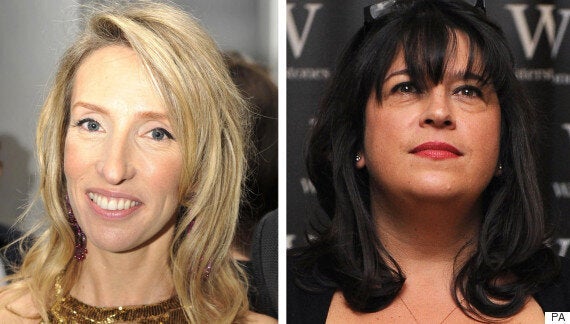 Sam Taylor-Johnson and Erica James - an unstoppable force and an immovable object
"The pulling, to-ing and fro-ing was literally on every single detail," she remembered. "There was nothing that wasn't picked apart, even with the clothes. She (Erica James) has such a powerful vision in her head, that if we changed the colour of the dress, it would really unsettle her. We had to sit and talk about it, and get her to a place where she felt comfortable."
Sam remembers one particular occasion on set, when she was directing stars Jamie Dornan and Dakota Johnson in a memorable scene where their characters Christian Grey and Anastasia Steele are dancing in his penthouse.
"It's written as 'the plum fitted dress' and absolutely this was the dress for that scene," remembers Sam. "But I said, 'you can't dance in that dress, you need something a little bit more flowing', so then we put that dress into the negotiation scene so that the dress from the book was still in there. So everything was negotiated."
So it was visual stuff, not the more defining ideas of who Anastasia and Christian were? "No there was that too," Sam's laughing by now.
"Literally, every single aspect of it, which it's great to have that wealth of material there, but at the same time, it was a case of, 'now look just leave me to the vision that I have because I need to also create to take it to another place.'
"I'm not saying she wasn't right to be like that, but it was difficult."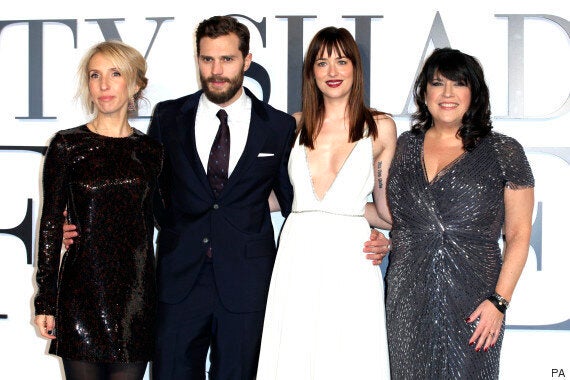 Sam says nothing personal about Erica and, with her artistic background, is all too aware of the need to own the creative process.
"I can't help but be honest about it, you get two people in the room and you're trying to achieve, from my perspective, something different and new and cinematic, but she knows it better than anyone, so of course I have to listen, but I'm quite stubborn too. So there were times when we locked horns, and we just had to thrash it out."
Which of course leads to the question of whether Sam is feeling like entering another potential battlefield for film's sequels, which the success of the first one has guaranteed.
"I don't know at this point," she says frankly. "I'm not privy to all the discussions going on, I'm literally the only one left out of the room. At the moment I feel like the same feeling when you've just had a baby and someone says, you going to have another one? I've literally just had a baby, I'm still feeling the pain, but hopefully once I've got my rose-tinted specs on, we'll see where it all lands."
One person nailing his colours firmly to Sam's mast is the film's male lead Jamie Dornan, who told HuffPost UK Sam had become one of his "favourite people in the world, a friend for life" after their filming experience together.
"The books are written by a woman, and the whole story is told from the perspective of a girl, so I think it was a clever idea having a female director, especially with her past work," he told HuffPost UK.
"I would love her to be involved, and the idea when we all signed up was that we would all be in it together and we'd honour the trilogy and do all three films, but those questions are better asked of Universal and Focus, they're the ones who make decisions, but I'd certainly love to do it with her."
'Fifty Shades of Grey' is in UK cinemas now. Watch the trailer below...