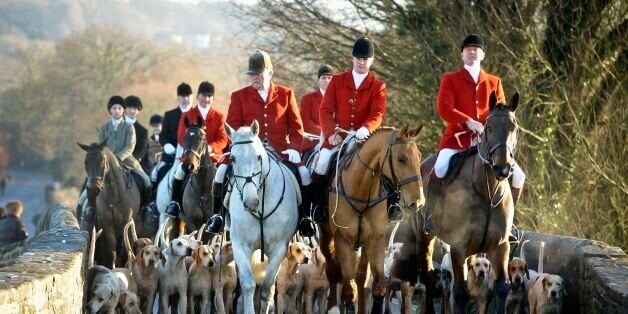 On the 10th anniversary of the ban on hunting with dogs, Labour launched a bid to win animal-lovers' votes in the general election with promises of action to tackle cruelty in circuses, puppy farms and shooting estates and end culling of badgers.
Unveiling the pledges in a document entitled Labour Protecting Animals, shadow environment secretary Maria Eagle warned that Conservative victory on May 7 could lead to the repeal of the ban on hunting with dogs, while Labour would ensure it was defended.
The Conservative election manifesto is widely expected to repeat the 2010 promise of a free vote on hunting in the House of Commons, and pro-hunting campaigners are hopeful that a move to "English votes for English laws" would make overturning the ban easier south of the border.
Defending the Hunting Act against the threat of repeal by Tories was top of the list of six animal welfare pledges launched by Eagle at a London wildlife centre.
And she said Labour was also committed in the next parliament to banning wild animals in circuses, ending the "ineffective and inhumane" programme of badger culls, reviewing regulations on dog and cat breeding and sales, reducing animal cruelty on shooting estates and leading the fight against global animal cruelty.
Labour leader Ed Miliband said: "Our Labour values tell us that we have a moral duty to treat the animals we share our planet with in a humane and compassionate way. No other major political party has such a proven track record of decisive action for animals at home, on farms and in the wild. This is a legacy that we are proud of - one which we believe shows that Labour is the only party to trust on animal welfare."
And Eagle added: "The last Labour government achieved much to end the cruel and unnecessary suffering of animals: the banning of hunting with dogs, securing an end to cosmetic testing on animals, banning fur farming and introducing the Animal Welfare Act 2006. The next Labour Government will continue to lead the way on animal welfare, starting with six key commitments that build on our previous achievements at home and abroad."
Claire Bass, executive director of Humane Society International UK, said: "On May 7, the votes of many millions of British people will be influenced by a desire to see greater protection for animals. A party's policies for animals - who are voiceless and so vulnerable to exploitation and suffering - tell you something very fundamental about its core ethics."
She added: "We urge all parties to make acting for animals a priority, and encourage voters to ask their candidates for their views on animal welfare. Whether it's ending suffering in circuses, laboratories, zoos, farms, or in the wild, animal welfare is a vote-winner, and badgers will matter at the ballot box."
The League Against Cruel Sports called for three reforms to the Hunting Act, to prohibit the use of dogs below ground, introduce provisions to ensure the killing of wild mammals during a trail hunt cannot be passed off as an accident and increase the punishments available to the courts.
League chief executive Joe Duckworth said: "Introduced 10 years ago on animal welfare grounds, this important and popular legislation has both the highest number of convictions and highest conviction rate above all other wild mammal legislation. Many more people have been deterred from chasing and killing animals for pleasure - something worth celebrating."
He added: "On average, one person every week is prosecuted under the Hunting Act's provisions. Of these, over two-thirds are found guilty, rending any argument that the ban is not enforceable redundant. The problem is not with the law. It's with those that flout it. It is now time to build on the successes of the first 10 years and strengthen the law to ensure the spirit of the Act is fulfilled."
Related