'EastEnders' gripped the nation on Thursday night, as TV viewers found out who killed Lucy Beale, then um, found out again when it turned out Jane Beale wasn't the killer after all.
MORE 'EASTENDERS':
Elsewhere in the Square, there were plenty of other dramatic events too, and unsurprisingly, some of them have captured the imaginations of Twitter users.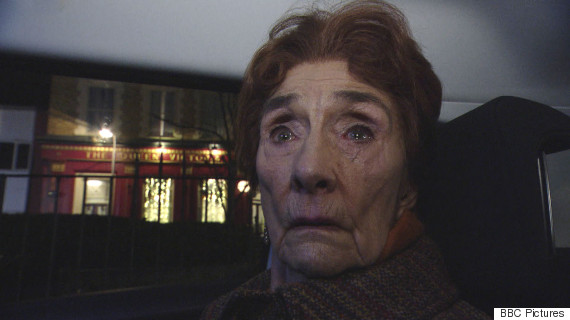 Dot's arrest was one of the evening's big surprises
While some of us were unable to type anything that wasn't "KATHY BEALE??", a number of Twitter users spent their time coming up with a fair few topical jokes and memes.
Firstly, Dot Cotton being taken away in a police car, after confessing to murder, was obviously a fantastic springboard for some good old-fashioned fun…
It's the remix to ignition

Dot Cotton edition

Got bagged by popo

Cause murder is my mission pic.twitter.com/PLyvNr05va

— Harry (@wroetoshaw) February 19, 2015
dot cotton rumoured to be starring in season three of orange is the new black

— Jack Edwards (@jackbenedwards) February 19, 2015
Dot Cotton's mixtape dropping next week. Rise Of The Leng Gran

— Plastician (@djplastician) February 19, 2015
If someone hasn't made a Dot Cotton mixtape cover called 'Prison Barz' or something by the morning, I will have lost faith in the internet

— Dean Meredith (@DeanJM1) February 19, 2015
Then, then was the shock twist screened in the flashback episode, as fans discovered that Lucy's little brother Bobby is a killer…
"@gracepotter_: The actor who plays Bobby Beale walking into school on Monday be like: pic.twitter.com/66OovTttJc" @EmmaHickson

— Don Vito (@JackDcotton) February 19, 2015
"its the remix to ignition,

the bobby beale edition,

i killed that blonde junkie,

but jane didnt go snitching pic.twitter.com/ZLJNLpVAIK" 😂😂

— Han☮ (@hanarobson_) February 19, 2015
Bobby Beale has just signed for the 5th Bourne movie #BealeOrNoBeale #Eastenders

— Darren Smith (@clifftop22) February 19, 2015
Tomorrow's 'EastEnders' will pick up where the first of Thursday's episodes left off, as Ian Beale confronts Jane, believing she killed Lucy.
The whole episode will be live, so let's just hope that everyone can remember the character names, eh?
LIKE US ON FACEBOOK | FOLLOW US ON TWITTER