Newcastle United football fans are rallying against a German anti-Islam movement, which will stage its first UK protest in the city next week.
The march is scheduled for 28 February – the day Newcastle United will play against Aston Villa at St James' Park.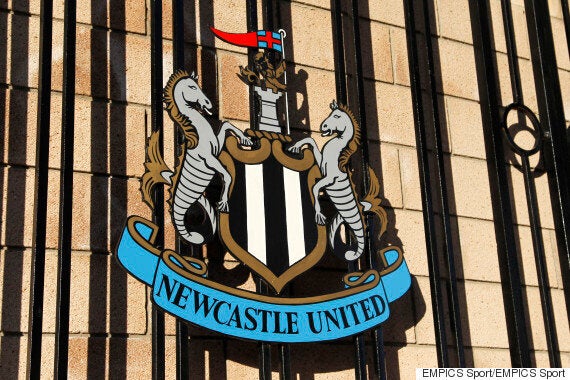 Pegida plans to hold its first UK rally in Newcastle upon Tyne on 28 February
The statement, entitled "Not in our city" describes Newcastle upon Tyne as a place "famous for its tolerance, integration and warmth of spirit." It adds:
"There is a fear that Newcastle United supporters who are of the Islamic faith or origin may be singled out for abuse by this group and we say that the authorities cannot allow any of our community, whatever their race, creed or religious belief to be treated in such a manner in our city on match day or any other day.

"As supporters of Newcastle United we are asking what kind of message is such a rally sending to players such as Papiss Cissé, Mehdi Abeid, Cheik Tiote and Moussa Sissoko as well as to our wider Muslim community. What kind of message does it send to those who come to study in our colleges and universities, or who visit as tourists to wonder on the splendour of our heritage history What message does it send to those who may be offered the opportunity in the future to come and work in a city that has prided itself on its warm welcome but will now be tarred with being a city that allowed itself to be associated with those of the German Far Right. Is this the message we want our city to be remembered by and tarnished with?"
The post signs off with a call for fans to stand united against the group and its far-right ideologies.
Pegida has told local newspaper The Evening Chronicle it will hold a "peaceful" demonstration, but there are fears that local extremist organisations are planning to join the march.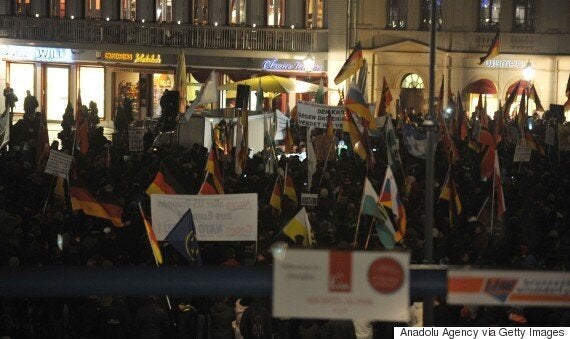 Supporters of Pegida demonstrate in front of the Frauenkirche cathedral (Church of Our Lady) in Dresden, Germany on 9 February
The newspaper cites sources from the British arm of the movement as stating their strong north east following is one of the reasons they will hold there first march in the city. Events in Birmingham and London have been suggested for later dates.
Comedian Russell Brand has also pledged to march against the group following an invitation from Newcastle councilor Dipu Ahad, who is a key figure in Newcastle's Muslim community.
The North East branch of the EDL chose this moment to pipe up with: "Yeah come along Bland, we sure would love to see you #ExpectUs."
Brand then confirmed his attendance, tweeting directly back to them: "Yes, I'd love to meet and talk about how this country could be taken back by the people from invading corporate elites."
MP George Galloway has called on the Home Secretary to ban the group from its Tyneside protest.
He told the Chronicle: "I'll be standing beside the hundreds of other anti-Fascists who will be demonstrating against this highly-provocative incursion by Pegida which can only be intended to stir up racial hatred.
"I know that the police have only limited powers to stop these marches but the Home Secretary [Theresa May] has the power to nip this in the bud by banning these knuckle-dragging thugs from the streets of Newcastle and elsewhere in the country. She should exercise this power and I am calling on her to do so."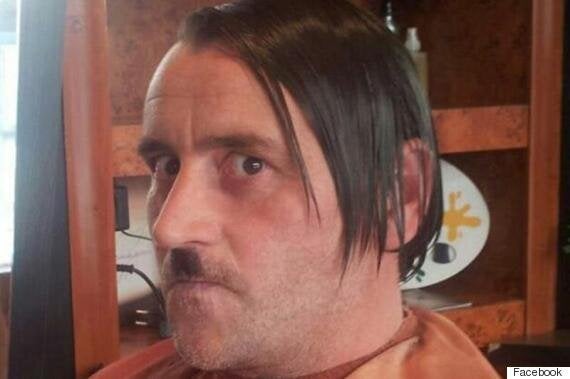 Founder Lutz Bachmann stepped down after this image of him circulated on Facebook
In January 25,000 people marched in Dresden in support of the group, many brandishing Christian crosses in the colour of the German flag.
Participants waved signs that read: "Stop multiculturalism" and "Islam doesn't belong to Germany."
Founder Lutz Bachmann stepped down in disgrace after social media posts emerged showing him styled to look like Adolf Hitler and where he described immigrants as "cattle", "scumbags" and "trash".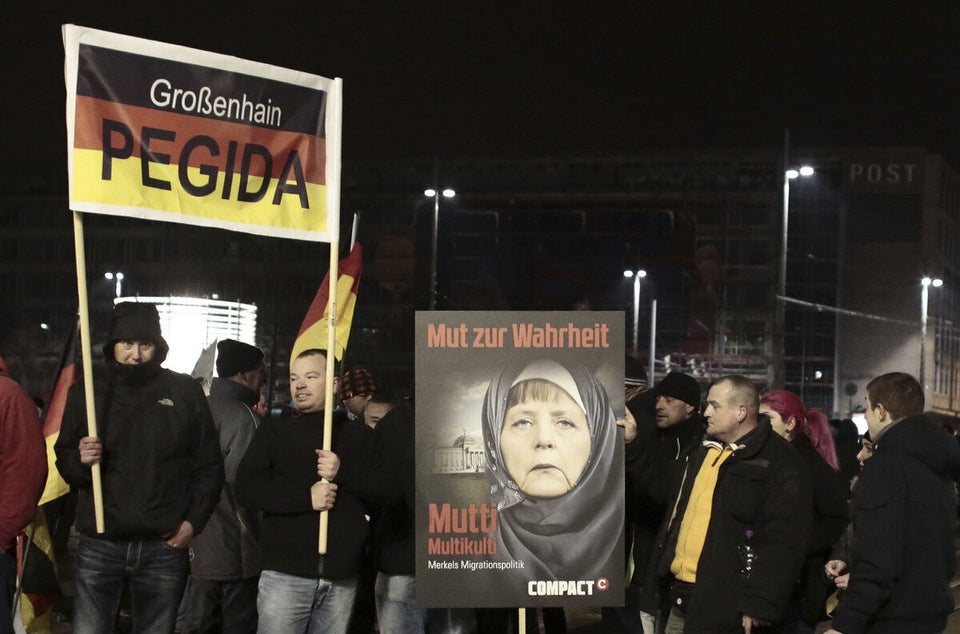 PEGIDA rallies