For years, men have been subjected to unfair comments regarding the size of their member.
From jibes made on the playground to locker room banter in schools and, even now, in grown-up (and sometimes quite public) spats - penis shaming is a big issue within society.
Now, one man is urging it to stop.
Ant Smith, 48, is sticking two fingers up to old penis size ideologies by throwing a small penis party, in the hope that it will kickstart a conversation about genital size anxiety and encourage others to embrace and celebrate having a small member.
"It's not a matter of admitting or coming to terms with it," he says. "It's a matter of celebrating our individuality."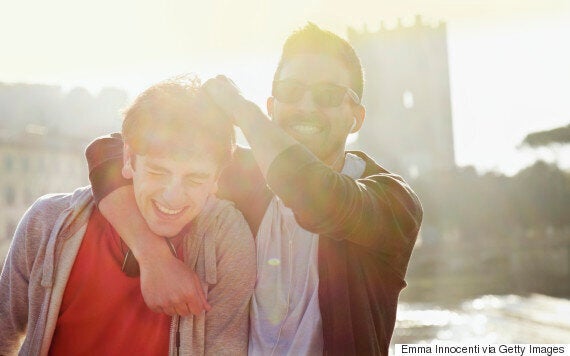 Smith, an engineering manager who has suffered from small penis anxiety in the past, says that the ordeal shaped his personality and sapped his confidence. That was, until he decided to tell everyone about it.
"Now that just about everybody knows I have a small penis, my life is actually way easier. No more stress that this secret may be discovered," he says.
The idea for a small penis party came about after Smith wrote a poem about the size of his penis, which encouraged conversation surrounding the matter.
"I had a lot of emails from men thanking me for opening up this discussion," Smith tells HuffPost UK Lifestyle.
"I knew that statistically speaking a lot of men suffer anxiety, but hearing stories first hand really drives home how much misery we've brought to the world over such a small matter."
Smith says that after the "despicable" body shaming spat between Lorde and Diplo - where the 'Royals' singer made fun of Diplo's manhood on Twitter - he realised that penis size anxiety is just like any other body image concern.
And he believes it's an issue that can truly unite men and women.
"I really wanted to take the conversation forward. But I didn't want to just start a dry campaign.
"I thought the only workable answer is acceptance - of who we are, what we're born with. And what better way to find acceptance than through celebration?"
But where did the idea originally come from, that men with small genitals became subjects of such ridicule? Small penis shaming has become ingrained in society as being normal. But surely it must've come from somewhere?
Damien Ridge, a professor of Health Studies at the University of Westminster, says that men often believe the penis is a "proxy for masculinity" with bigger members being apparently better.
"There are so many mixed messages about the penis," Ridges tells HuffPost UK Lifestyle. "The popular media sends a message that endowment is valued and smaller penises should be ridiculed.
"But experts frequently say size does not matter in sex."
Smith adds that "large penises play out well in porn and fantasy" too.
"Nowadays we don't see each other naked so much. But at the same time we're bombarded by doctored images in advertising and 'specifically selected' larger males in porn, so we not only get the message that bigger is better, but we seem to live in a world where everyone else is bigger."
Of course, in reality that's not the case.
The small penis party will be taking over The Rhythm Factory, Whitechapel on Saturday 7 March from 7pm.
A lot of careful consideration and planning has gone into the event, right down to the ticket prices which, Ant explains, are very "complicated".
He reveals that men are invited to pay 50p for every inch they "claim to wield" and women pay per inch of the size they'd say is their preference.
While the comedian finds out some interesting - and sometimes humiliating - things along the way, he is helped by his ability to see the funny side.
"Humour dispels stress," Ant Smith adds. "And when you're discussing a difficult subject, why make it even harder by being overly serious?
"Penis size shaming is an issue that can deeply hurt a man, so a little humour can be a big help."