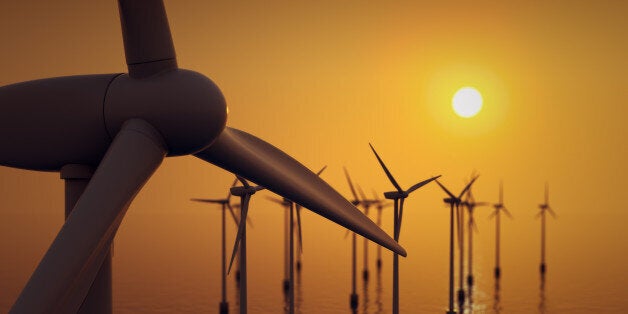 A Ukip parliamentary candidate has been widely mocked for reports that she was worried renewable energy would one day run out.
Victoria Ayling, who wants to be the next MP for Great Grimsby was taking part in a hustings in the town of Cleethorpes, Lincolnshire. According to The Grimsby Telegraph, Ayling was greeted with "guffawing" from the audience when she asked: "What happens when renewable energy runs out?"
The quote appeared as below in The Times newspaper's political Red Box email briefing on Thursday morning. And it got wider attention when it was tweeted by The Guardian's Alberto Nardelli.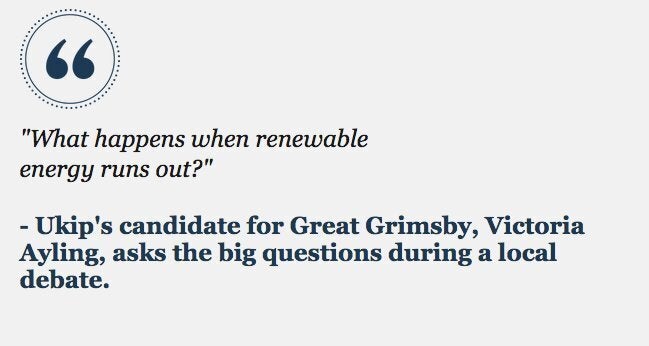 According to local reports, Ayling was actually making a point about government subsidies for specific areas of the energy industry. However the damage has already been done. A point Ayling subsequently also tried to argue on Twitter.
Nigel Farage hopes to capture at least a handful of seats on May 7. And Ukip are within "striking distance" of taking three Tory-held target seats in May, polling by the Conservative peer Lord Ashcroft has found.
The polling in four seats judged to be Ukip targets suggested that the Tories would hold them all, but huge swings to Ukip in three of the constituencies meant they could be vulnerable.
The Tory poll lead was just one point in Castle Point, three points in Boston and Skegness and six points in South Basildon and East Thurrock.
The situation in North East Cambridgeshire was more comfortable for the Conservatives, with a 21-point gap separating them from Farage's party.
Popular in the Community