We already knew that the Mars One mission to land astronauts on a hellish deathscape within ten years faced technical issues, such as, for instance, almost everything.
That hasn't stopped it announcing the first 100 candidates to travel to, and die on the planet — and it hasn't stopped the world's media reporting that news as if the rockets, landers or even just the spacesuit gloves are designed and ready to go.
But now a report has claimed the reality is Mars One has just months to decide whether to push for its first scheduled launch in 2018, or face a two-year delay.
"If we cannot make this deadline we are always flexible in moving another two years," Mars One CEO Bas Lansdorp told SpaceNews. "That's a decision that we will have to make before the summer."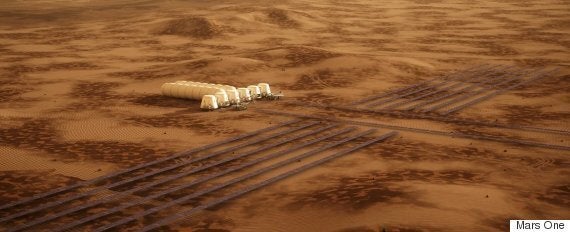 Under Mars One's current plans, the 2018 mission would comprise an unmanned probe, which will both land a robotic craft on the surface and place a British-made communications satellite in orbit around the planet.
It is thought that launch would make use of a critical 'launch window' in which Mars and Earth are aligned nicely to make a jaunt between the two relatively swift, and cheap. If it doesn't make it, the next opportunity will be around 2020.
Mars One attempted - and failed - to raise $400,000 for the mission in 2014 on Kickstarter, but maintains funding is achievable for the launch.
New Scientist reports via SpaceNews that work on the missions is already facing problems. It says that Lockheed Martin (who completed a concept study for the mission) and Surrey Satellites (who designed the orbiter) have "suspended" work on the mission.
However, both companies told SpaceNews that while they have not received new contracts with MarsOne since completing their studies, that is not necessarily unusual.
"SSTL delivered the concept study for the Mars One communications system last year," SSTL spokeswoman Joelle Sykes told the website. "There are no follow-on activities underway at the moment."
"Lockheed Martin has concluded the initial contract with Mars One in which we performed mission formulation studies and developed payload interface specifications to support the selection of a payload suite for the 2018 Mars robotic lander," the company said in a statement. "We continue to maintain an open channel of communications with Mars One and await initiation of the next phase of the program."
Mars One CEO Lansdorp said that the non-profit is "currently reviewing the results of the work our suppliers did and are preparing for the next contracts, so we're simply in between contracts". He added that while a TV deal with Endemol to promote (and fund) the mission has fallen through, the company will instead produce a documentary with Stateless Media.