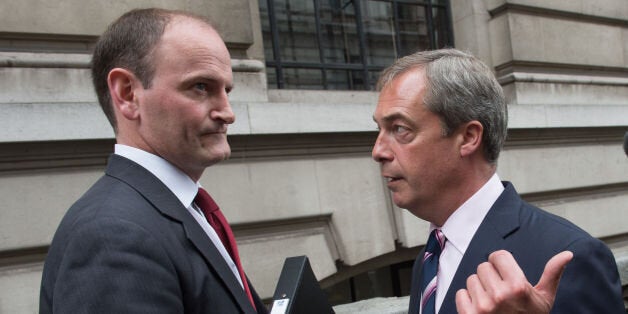 Douglas Carswell insisted there is no ideological split between him and Nigel Farage, as he said Ukip needed to appeal to "all Britons" if it was to make a significant breakthrough in Westminster.
Speaking at an event in central-London on Tuesday hosted by the the Politeia think-tank, Ukip's first elected MP also said he hoped his party would start talking about a "broader range" of policies beyond immigration and Europe.
"I don't think I could get into a lift at the moment without somebody writing an article somewhere saying Nigel Farage would have take the stairs. I keep on being told that whatever I do is at odds with the party leader, it is simply not the case," Carswell said.
The MP for Clacton, who defected from the Conservatives last year, had been pressed on whether shared some of the more controversial views expressed by Farage - including a claim that he was late for a meeting because immigration had increased the amount of traffic on the M4.
Carswell said his article in The Times, in which he criticised Enoch Powell, and his planned speech this evening on immigration were "100% in line with and reflective of Ukip's position". He added: "People in Westminster aren't particularly interested in what Ukip's policy actually is, instead they go on what they imagine it to be."
A recent poll by Conservative peer Lord Ashcroft suggested Ukip has seen its support start todip as the May 7 general election draws nearer, dropping five points in just one week.
Carswell acknowledged recent media coverage had painted the party in a negative light. "If you only watch Channel 4 and if you only read The Guardian, you might not have seen this reformist side to Ukip. You might have seen a recent programme on Channel 4 which implied something sort of authoritarian and illiberal about Ukip, I profoundly and fundamentally disagree," he said.
The Clacton MP said Ukip was making progress fundamentally "by being a party for all Britain and all Britons". He said: "If you are looking to gain market share you have to be appealing to as a big a share of the market as you can."
Carswell, who has long advocated changes to the political system including handing voters the ability to sack MPs mid-term, said he expected policies to devolve power away from Whitehall to be included in Ukip's manifesto.
"I think if Ukip does that and if Ukip stays true to this genuine reformist, radical, tradition, I think we could go from being a start up to a party that has market share not just in the country in the polls but significant market share in the House of Commons."
Carswell said Ukip had already forced the Conservatives and Labour to change their positions on immigration and Europe and should look beyond those core issues. He said: "I want Ukip to start talking about a far broader range of things precisely because if we offer a credible, sensible, some might even say classical liberal, alternative, I suspect they might have to change too."
Popular in the Community