A pop-up owl bar is on its way for our fair shores.
Yes, that's a pop-up owl bar. As in a bar with living, breathing owls.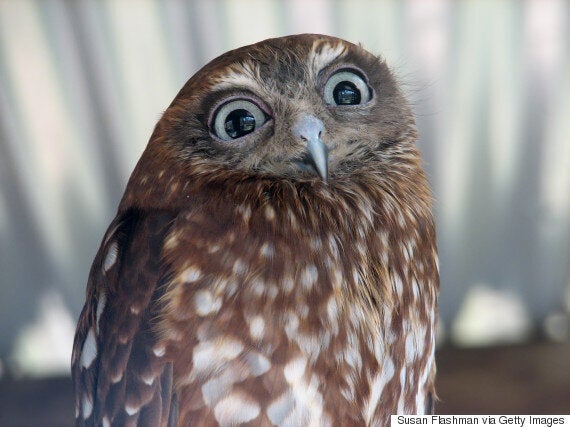 The bar will feature owls! Like this one!
But not just anyone can waltz in and hang out with the owls, no sir.
Entry to the bar will be determined by a ballot system – but competition is steep and more than 32,000 people have applied so far.
Tickets are £20 an include entry for one, two cocktails and two hours of "owl indulgence." [Fyi, its a sit-down event with owls from a professional falconry centre who are used to being around the public. Noise and background music will be kept to a minimum and each owl will have only 10-12 members of the public around him/ her at any given time. Additionally, guests will not be permitted to touch the animals, should the falconer feel it would be inappropriate.]
The website states: "Profits from the ticket sales will be donated to the Barn Owl of Gloucestershire to help the conservation of owls in the UK. All owls are trained to be around the public and will be accompanied by professional falconers."
A spokesman for Bar Owl confirmed to Huffington Post UK the charity would be accepting donations and stressed it had been "100% guaranteed no harm will come to the owls." The charity is not supplying the owls.
London is not the first city to benefit from beverages with our feathered friends.
Guests can touch, pet and even allow the owls to sit on their heads during a one-hour pre-booked appointment.
Speaking to HuffPost UK, PETA UK Director Mimi Bekhechi said: "It would be hard to think of a more frightening experience for owls, who have especially acute hearing and vision, than to be surrounded by intoxicated, caterwauling humans at a bar."
She added: "The notion of raising money to protect owls in nature by terrifying owls in captivity is absurd. The kindest place for owl enthusiasts to admire these birds is in their natural environment, not at a London nightspot where they're used as props or playthings."