AJ tells HuffPostUK that the band were recording their most recent album in a London studio, and he could tell something wasn't right with Brian's voice, but he was still shocked when Brian asked the rest of the band to sit down, because he needed to tell them something.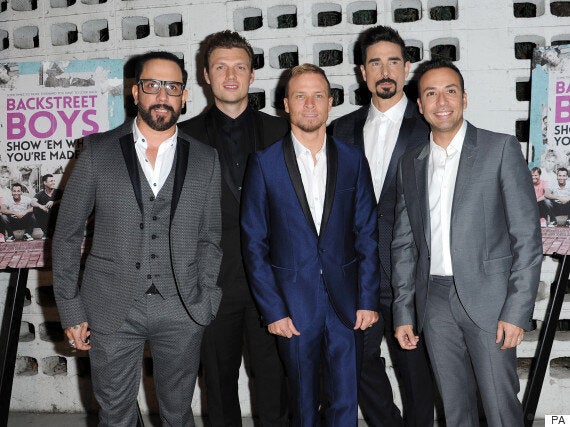 The Backstreet Boys show a new vulnerability in the new film documenting their entire story
AJ remembers: "He told us he had vocal tension dysphonia, which I had never heard of in my life. Immediately some of the guys were jumping on the internet, trying to look up stuff to see if they could help."
A fly-on-the-wall documentary 'Backstreet Boys: Show Em What You're Made Of' includes footage of Brian, who had one of the strongest voices in the group when they were at the peak of their success, having therapy for his condition, which constricts the vocal cords and can prevent any sound coming out. Brian has separately revealed he also suffers from dystonia, a form of disconnect between brain and vocal cords, and that these are both nervous conditions, which can be caused by stress, and the kind of hectic lifestyle that goes with selling 130 million albums worldwide.
One of the film's key scenes shows frustrated bandmate Nick Carter blowing up at Brian, shouting, "Are we going to talk about this?" but AJ, a recovering alcoholic, says he has a lot of empathy for his afflicted bandmate.
It's similar to what I went through," he agrees. "It's about working on yourself, overcoming your demons.
"But it starts with him. If he doesn't do the work, it's never going to change.
"But he's competitive and stubborn, he's a lion and he'll fight. Hats off to him, he's doing everything he can. I can hear his voice getting better."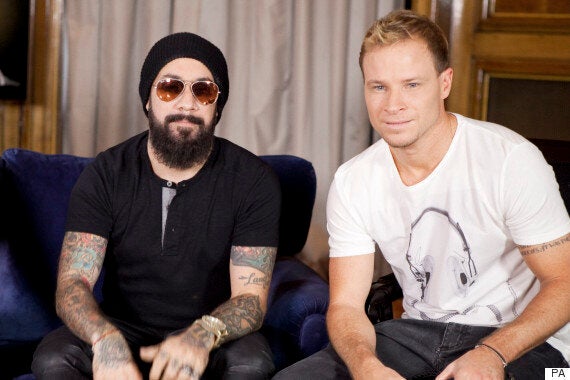 AJ McLean with pal Brian Littrell, who he says is working hard to get his voice back in shape
AJ's own chequered history saw him christened the bad boy of the outfit, something he jovially half-acknowledges.
"I think every member of a boyband needs a label," he reflects. "The young one, the funny one… I felt into the slot of bad boy, but I'm really the biggest teddy bear." Pause…
"I may have been masquerading as the bad boy, that could explain the hair colour, the tattoos, the smoking, the drinking…"
"I still have my moments of fun, but now they're sober ones."
The film follows the band as they embark on their eighth studio album, following Kevin Richardson's return to the band in 2012 and lucrative tour. But it also digs into their past, with each of the five taking the other four to his hometown, and introducing him to formative teachers and other mentors. Unsurprisingly, there are also some bad memories revisited – Kevin Richardson's moving account of his terminally ill father waving him off at the door, Nick Carter staring silently at the house where his now divorced parents fought throughout his childhood – and many tears are shed.
"We decided we had to be completely honest, and not hold anything back," says AJ now. "We actually forgot the cameras were there for some of it."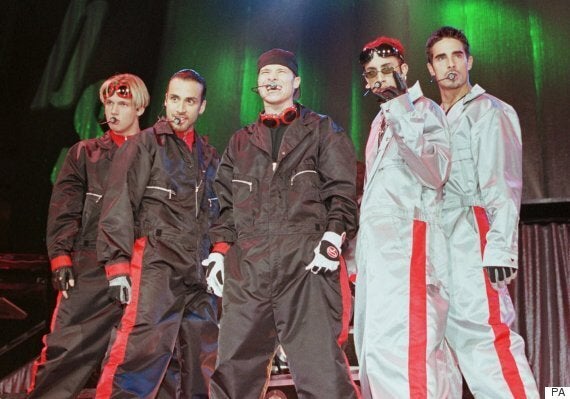 The Backstreet Boys were making millions back when they started, but didn't see any of the money
One of the more spontaneous and revealing moments in the film is when the band makes a return visit to the former home of their creator and mentor Lou Pearlman. Pearlman is now in jail, sentenced to 25 years after conviction of of a massive Ponzi scheme fraud in 2008, and the house is deserted. The five end up actually inside the house, wandering through the rooms where they once sat in awe of 'Big Poppa', not realising all the while that their efforts were paying for all of this, while they saw only tiny bits of pocket money along the way.
"For some of the guys it was bittersweet, that trip," AJ reveals. "Nick wouldn't go inside, and Brian was done pretty soon.
"You're looking at the house that you built, and there wasn't any return," he says ruefully, remembering a more innocent time. "I remember us performing in these big arenas night after night, and yet there was so little cash, so you know something somewhere's not right.
"But the last figure you would ever think of was Big Poppa, because we were so close to him. So it's a harsh reality that surfaces, and we've all had to deal with it in our own ways.
"We're much better businessmen these days," he adds.
The other difference he describes is "much more mutual respect between the five of us", enhanced no doubt by the change in status. All five are now married, and four are fathers.
"I can't speak for the others, but my priorities have changed, certainly," says AJ. "I live for what I do, but being a father is the best job."
The film is an absorbing journey from the dizzy heights of boyband uber-success, to the lows of lawsuits, rehab, reality TV and therapy (Kevin Richardson alone seems to have made it through unscathed, taking the relatively serene road of screen acting and Broadway), and by the end it's only a steel heart that isn't rooting for them to enjoy success again this time around. AJ is openly proud of the film, and it's no doubt a dedicated fan-fest, but what is there for the non-BSB worshipper to enjoy?
"I think it's an insight into the highs and lows of this business, this huge machine," he ponders.
"I hope viewers will have a new respect for the industry, and those of us who've had to change in it, and will no doubt have to change again."
Finally, AJ McLean, what's your own favourite Backstreet Boys song?
"It's Show 'Em What You're Made Of... and I'm not just saying that," he adds quickly.
'Backstreet Boys: Show 'Em What You're Made Of' is in cinemas nationwide this Thursday 26 February followed by a special performance by the band broadcast live by satellite - http://www.backstreetboys.com/international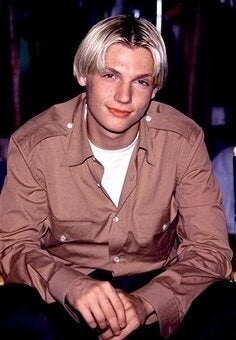 Backstreet Boys Hair Retrospective