A female army officer has been given a medal for challenging the "highly misogynistic" views of Afghan soldiers.
Staff Sergeant Kate Lord, 32, received the prestigious Queen's Commendation for Valuable Service for challenging the opinions of young men in the Afghan National Army, who accused her of being weak were shocked that her husband would let her go to Afghanistan.
Lord trained Afghans in the Royal Army Physical Training Corps, and was praised for helping to tackle the country's "deeply conservative culture"."
She challenged the opinions of the young male instructors while mentoring them at the Afghan National Army officer academy in Kabul, proving her physical prowess and winning their admiration.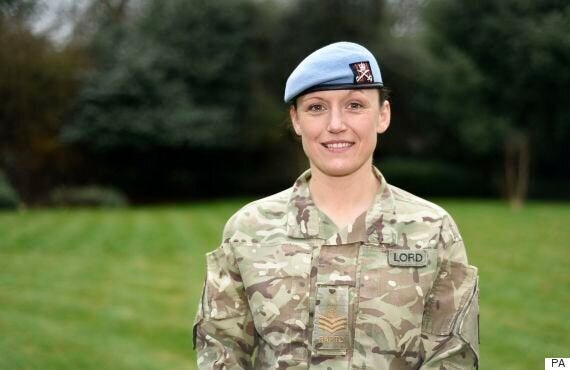 Lord said her mentees had a "weird reaction" to her
Her award citation says that "nobody in this mission - male or female - has done more to further the standing of women in the Afghan National Army".
She said: "Originally I was sent out to mentor women in the Afghan National Army.
"However, when I got there there were no women because there had been a delay in their recruitment, so I was thrown in the deep end and sent to mentor the men.
"If I had known I was mentoring the men I probably would have prepared a little bit more perhaps.
"When I first met my mentors I had three and it was a weird reaction. They at first stared for quite some time, they were intrigued with me, then the questions started firing towards me. Very personal questions, so they wanted to know whether I was married or not.
"They were shocked that my husband would let me go to Afghan on my own with lots of men."
"Then they started getting onto the physical aspects - because I am small they thought I was weak. I then had the challenge of changing and proving them wrong."
Staff Sergeant Lord said that receiving the medal was "overwhelming and quite surreal".
Originally from Gateshead, Tyne and Wear, but stationed in Yeovilton, Somerset, she was commended for her "infectious enthusiasm", which helped her overcome prejudice.
Lord, a non-commissioned officer, also single-handedly developed a female physical training facility at the academy. She researched and analysed Asian female body data, scrutinised training regimes at regional academies and collected data from females on her course.
Using that information she designed tests for female recruit selection and wrote the female physical training syllabus.
The Queen's Commendation for Valuable Service is a British civilian and military award that recognises meritorious service during, or in support of, operations.
Popular in the Community