For some reason everyone is arguing this morning over the colour of a dress.
Some people think it's blue and black, some people think it's white and gold.
All we know is, it's very annoying.
SEE ALSO: Lego, Man U And Domino's Cash In On #TheDress
The only thing I can think about with this whole #TheDress thing. pic.twitter.com/o9i0J2lvZ0

— Lauren Smith (@laurenjsmith) February 27, 2015
this is how we are all feeling right now #TheDresspic.twitter.com/NVvawlvmrV

— Da Don® (@ThatMackRamii) February 27, 2015
This Vine will change how you feel about #TheDresshttps://t.co/T0CxgjKSHc

— lami (@TweetThif) February 27, 2015
*logs on twitter* #TheDresspic.twitter.com/GU0s3AwaFR

— HJ❥ (@Hneenji) February 27, 2015
Well I guess that settles it. #thedresspic.twitter.com/mAwbU3JzhJ

— Denham Sadler (@denhamsadler) February 27, 2015
Disclaimer: This is photoshopped.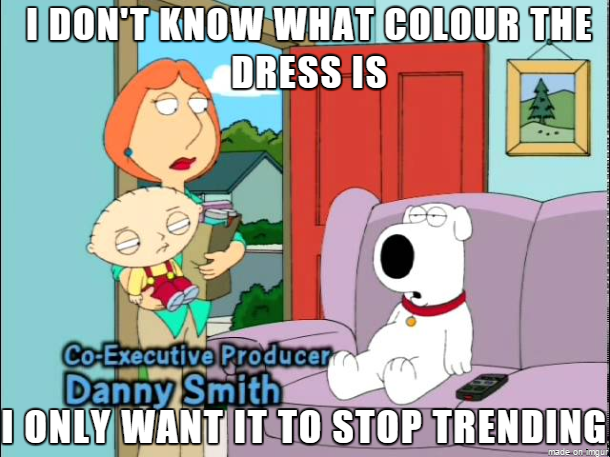 These reviews on Amazon though 😂#TheDresspic.twitter.com/YkD6lBbIpZ

— Aamina ♌️ (@NYgirl_z) February 27, 2015
Arguments are raging in offices across the UK, including ours. WHEN WILL IT STOP??
Two hours in and this dress argument is still raging pic.twitter.com/GF44DQoyKw

— Ryan Barrell (@RyanBarrell) February 27, 2015
Team #whiteandgold is officially leading, despite it being scientifically proven that the dress is black and blue.
READ MORE: What Colour Is This Dress?