More than 2,000 people have rallied in Newcastle, under the banner of 'Newcastle Unites', to oppose the first demonstration in Britain by a controversial anti-Islam group which allied itself with the German Pegida movement.
Five people have been arrested by Northumbria Police, though it was not clear from which side. Less than 400 supporters of Pegida UK turned up to march this morning in Newcastle, but they were far outnumbered by counter-demonstrators. Organisers blamed the early start enforced by police for the relatively poor turn out - less than half who had said they were attending, via Facebook.
Pegida UK organisers pledged on Facebook that it is a peaceful organisation and not affiliated with right-wing extremists.
There was a brief scuffle involving members of far-right groups which temporarily damaged Pegida's PA system, a steward said, but there was no outbreak of major trouble. Police said the arrests were for isolated incidents and both events passed off smoothly.
Paul Weston, leader of the right-wing Liberty GB party, spoke at the Pegida rally, telling supporters that Muslims would be in the majority in Britain in decades to come and that they will "take over".
"That is exactly what they will do if we quietly do nothing," he told the crowd. "We have to fight back." He said he felt sure Pegida could build on the first event and attract middle England in a way the English Defence League had not.
"For a first meeting, I think that is OK," he said. "It is bigger than the first meetings they had in Dresden."
Pegida rally organiser Donna Trainor said: "Islam is not a race, it is a religion. (The term) 'racist' shouldn't be on the table.
"Pegida raises awareness. We want the Government to take notice and take jihadis and Muslim extremists off the street."
Unemployed Wendy Ellison, 46, from Durham, brought her bulldogs Willow and Betty to the Pegida rally. She said: "It's no good sitting in the house, shouting at the telly. I feel our country is messed up now. It doesn't feel like Britain any more."
Opponents had vowed to make the group, whose name translated from German means Patriotic Europeans Against the Islamisation of the West, feel unwelcome.
George Galloway MP and comedian Russell Brand backed the counter demonstrators, who come under the banner Newcastle Unites.
Galloway, Respect MP for Bradford West, was on his way to join the Newcastle Unites counter demonstration.
He said: "It is absolutely extraordinary that a German organisation sets up in the UK - it's not as if there is a lack of right-wing nutter organisations here. They have got to be opposed, wherever they are."
Galloway, who travelled to the North East in his Mercedes, said he was not anti-German. "I love Germans, I'm driving a German car, but this is one German import we don't want," he said.
"There's a fine line between freedom of speech and expression of hate."
On Facebook, Pegida - whose name translated from the German acronym means Patriotic Europeans against the Islamisation of the West - said: "We would like to remind everyone that this will be a peaceful rally where people from all walks of life will gather together to unite against extreme Islam, nothing else. We all have one main aim and that is to protect our British values and our culture.
"Patriots together showing what British resolve is all about, let's do it but do it peacefully together!"
Story continues below the slideshow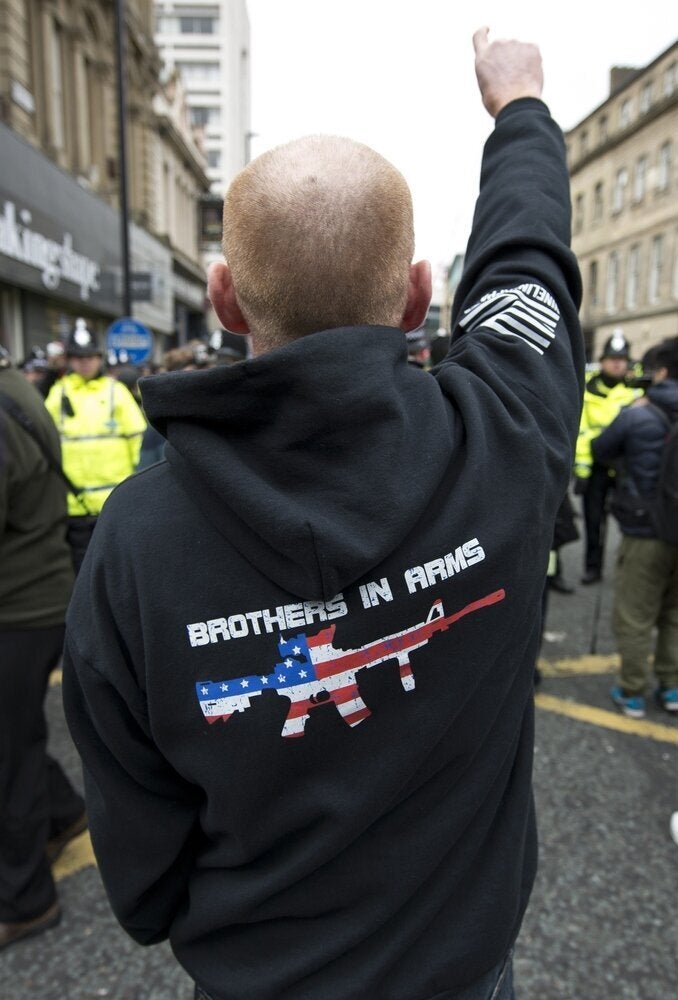 Pegida march in Newcastle
Pegida peaked in Germany last month when 25,000 people attended an event in Dresden but its popularity has faded following a scandal among its leadership.
Northumbria Police has said it was business as normal for visitors to the city centre, including fans for the afternoon match between Newcastle United and Aston Villa. Newcastle Chief Superintendent Laura Young said: "People will see extra police officers in the city centre, particularly around the demonstration areas in the Bigg Market and Newgate Street , they are there to make sure the events pass safely and to help minimise the disruption to those not involved.
"The force respects the right to peaceful protest and takes a neutral standpoint, not supporting or endorsing any groups or individuals. We've been in contact with organisers from both groups in the run up to Saturday and at every stage they have assured us that their demonstrations will be peaceful.
"We expect everyone who attends the events on Saturday to respect the rights of others. It is the responsibility of the groups involved to ensure they act in an appropriate and peaceful manner and we will only take action if this is not the case."