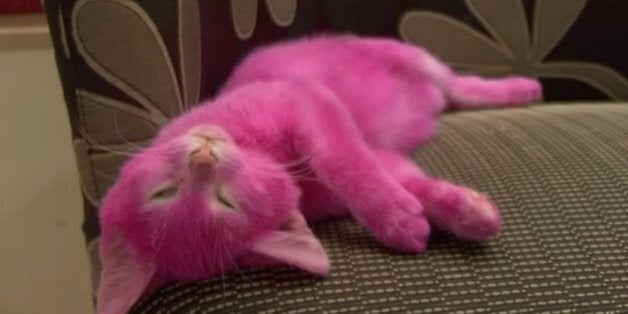 The cat, which belongs to Russian writer Lena Lenina, reportedly passed away after licking the "toxic" dye from its fur. It had been dyed for a Pretty In Pink party last September, where all guests were encourage to wear pink - including the kitty, it would seem.
But according to recent photographs uploaded to Lenina's Instagram account, the cat appears very much alive. Its fur is simply a lighter shade of the fuschia hue of last September.
Writing on Instagram, Lenina slammed reports as "outrageous" and criticised media for not contacting her to check whether the cat was still alive.
Reports, published by MailOnline, The Mirror and Metro UK, appear to have originated with local Russian press, and while vets are the alleged sources, no individuals have been named.
According to reports, thousands of people have signed an online petition urging police to investigate the matter further. Artist Yuri Kuklachev has also reportedly criticised Lenina's actions.
Lenina has previously said that the dye, which she says was administered by hairdressers, is designed for animals to prevent licking and that it can actually heal and strengthen cat hair.
But despite hints that the cat is still alive, many have continues to criticise her for using coloured dye in the first place. Many have taken to social media to call for Lenina to apologise.
One user wrote: "Even if this kitten did not die of the toxic colour, this is how not to treat an animal. Are you stupid?"
What do you think? Let us know in the comments below...
Related