 SWNS
A terminally ill man who wed his childhood sweetheart in a race against time has passed away.
Paul Williamson, who had cancer, only had one wish when he was told he didn't have long to live: He wanted to marry the woman he had loved since college, Anne Hope.
Thanks to the kindness of local businesses in Coventry and Birmingham, the pair were able to have their dream wedding on Valentine's Day.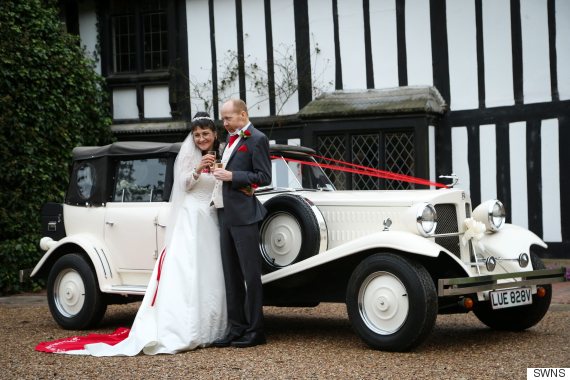 Paul passed away peacefully on Saturday morning in Myton Hospice, Warwick, having been admitted shortly after his wedding. He would have been 49 on Sunday.
"He died happily married, exactly as he wanted. It's a cruel world," one mourner posted on Facebook.
Anne and Paul were married in Elmdon Church, Solihull, where Paul's parents wed 56 years ago.
Lynda Crabb, Paul's sister, said: "Both Paul and Anne were very emotional.
"I was with Anne and she got upset and said that all she wanted to do was marry Paul. When I took Paul to the doctors, he got emotional and said that he just wanted to marry Anne too."
SEE ALSO:

Terminally-Ill Doctor Fights For Dignity Of Fellow Cancer Patients

Man Who Claims To Have 'Died Twice' Reveals What Really Happens When We Die