Prosecutors said the British plot was part of a broader al Qaida conspiracy calling on other cells to attack civilians in New York and Denmark. During the trial, four MI5 agents - who were disguised using make-up - described weeks of surveillance they conducted on Naseer in 2009, including movements to and from an Islamic centre and a cyber cafe.
Pakistani-born Naseer, who said he travelled to England to take computer science classes, was extradited from the UK to the United States in 2013. Detective Chief Superintendent Tony Mole of Greater Manchester Police said in a statement: "Throughout his trial, a number of locations in Manchester were mentioned as potential targets for Naseer."
He continued: "I want to stress that these locations were part of a plot that is now six years old. There is no current intelligence or evidence to suggest any of these locations are under threat or at risk of a terrorist attack. I want shoppers and residents to be reassured by that and continue to use the shopping facilities in Manchester without fear or trepidation."
He said Greater Manchester Police and the North West Counter Terrorism Unit continue to work "very closely" with shops in Manchester to ensure security and safety measures are in place to protect shoppers.
"Of course, what this case does highlight is the need for everyone in Greater Manchester - not just the police - to be vigilant and combat terrorism. And although terrorist attacks are very rare, the threat such an attack could pose to the cohesion of our communities is enormous. That is why tackling radicalisation both here in Manchester and from those who travel abroad and return to the UK is an absolute priority for us," he said.
Mole said in 2009, the North West Counter Terrorism Unit arrested Naseer following "credible intelligence about a potential plot to carry out a terrorist attack in Greater Manchester". He said: "There are times when we receive credible intelligence about a potential terrorist attack when we have to act immediately to stop any terrorist atrocity and protect people's lives. That is exactly what we had to do in 2009.
"Following our action, a file was passed to the Crown Prosecution Service in 2009 who decided there was not enough evidence to prosecute. However, as our inquiries unfolded it became apparent Naseer was part of a bigger conspiracy to both plot and carry out terrorist attacks elsewhere. In 2010 he was then extradited to the United States to stand trial in America, and has now been convicted."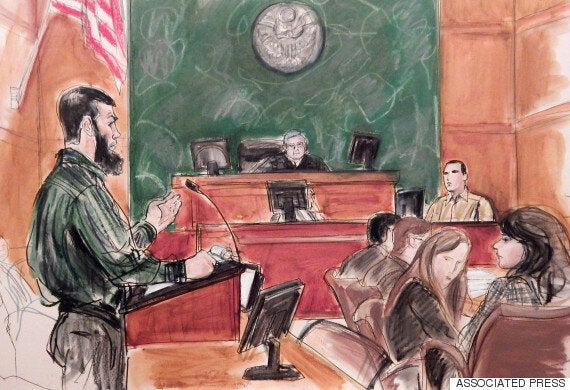 Courtroom file sketch, acting as his own attorney, Abid Naseer, left, questions Najibulla Zazi, center right, during Naseer's trial on terrorism charges in the Brooklyn borough of New York
The jury reached the verdict in a Brooklyn court after beginning deliberations yesterday morning, and a date has not yet been set for his sentencing. After his extradition, Naseer pleaded not guilty to providing and conspiring to provide material support to al Qaida and conspiring to use a destructive device.
He acted as his own lawyer throughout the trial, often referring to himself in the third person as he set about portraying himself as a moderate Muslim who was falsely accused. "Abid is innocent," Naseer said in closing arguments on Monday, adding: "He is not a terrorist. He is not an al Qaida operative."
In her closing argument, assistant US attorney Zainab Ahmed told jurors the arrests of Naseer and other members of his cell averted mass murder. "If the defendant hadn't been stopped, hundreds of innocent men, women and children wouldn't be alive today," she said. The government alleged Naseer had received bomb-making instruction in Pakistan in 2008.
Naseer's self-representation created the spectacle of the defendant cross-examining an admitted terrorist. MI5 secret agents testified wearing disguises - one wore a fake beard and thick black glasses - and the trial marked the first time documents recovered in the 2009 Navy SEAL raid against Osama bin Laden's compound were used as trial evidence.
Most of the case hinged on email exchanges in 2009 between Naseer and a person described by prosecutors as an al Qaida handler who was directing plots to attack civilians in Manchester, New York City and Copenhagen. Naseer insisted the emails consisted only of harmless banter about looking for a potential bride after going to England to take computer science classes.
He "wanted to settle down," he said, adding: "Is there anything wrong with that?" But the prosecutor accused Naseer of lying on the witness stand by claiming the women he wrote about were real. She said the women's names were actually code for home-made bomb ingredients: Nadia stood for ammonium nitrate and Huma for hydrogen peroxide.
When the defendant wrote to the al Qaida handler, "I wish you could be here for the party", he was talking about the attack, she added. The prosecutor dismissed Naseer's explanations as "blather", saying: ''This man wanted to drive a car bomb into a crowded shopping centre and watch people die."
Meanwhile, Mole, of GMP, has called on "everyone in our communities" for help in identifying "young people who are vulnerable and therefore susceptible to being radicalised". Speaking about radicalisation, he said: "But this is not something police officers can do alone. We need everyone in our communities - schools, teachers, local councillors, parents and friends - to help us identify those young people who are vulnerable and therefore susceptible to being radicalised."
He continued: "If we can identify those at risk before their behaviour escalates into extremist views or a misguided desire to carry out an act of terrorism, then we can safeguard those individuals and try and steer them away from that lifestyle. I want to also stress that this is not just about Islamic fundamentalists or extremists but anyone - regardless of their background or religious persuasion - who shows signs of extremist or dangerous behaviour."
"That is why we all need to stand together to combat terrorism and report any suspicious behaviour immediately before it is too late," Mole said.
Related