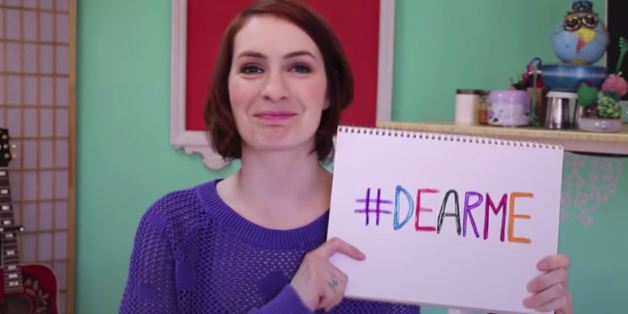 YouTube
To coincide with International Women's Day, YouTube has teamed up with a host of popular female vloggers to encourage people across the world the share a message to their younger selves on social media.
Here are some of the most beautiful messages we've seen:
#DearMe Remember that /YOU/ are beautiful and important. Seeing the good in yourself is the hardest thing for anyone to do. But stay strong.

— Kaciplier. (@KcManc83) March 4, 2015
#DearMe Trust yourself and work hard, you'll find something fulfilling.

— muuuunchh tennn xx (@ambernmiralpis) March 4, 2015
#DearMe it gets better, I promise. Don't give up. One day you will smile and really mean it.

— Eddy Davis (@EddyZDavis) March 3, 2015
#DearMe don't let your flaws hold you back from wearing certain things or feeling like you're not beautiful. YOU ARE!

— Julissa Velilla (@velillajulissa) March 4, 2015
Do not believe in the love of your significant other until you love yourself first #DearMe

— DASH (@SheIsDash) March 4, 2015
#DearMe Please stop over thinking negative thingsAnd please choose action because,action is more closer to success.And don't blame yourself

— なかちゃん (@Rrlee1995) March 3, 2015
#DearMe One day, you'll be just a memory for some people. Do your best to be a good one.

— p (@pidokzxc) March 4, 2015
Whenever you feel sad, remember all the beautiful people you've brought joy to. Be appreciative for all the things you have. #DearMe

— I AM SHAHEED (@Shaheedworld) March 4, 2015
Jameela Jamil To Guest Edit HuffPost UK Lifestyle For International Women's Day
#DearMe Be proud of who you are & what you've accomplished. Obstacles are unavoidable, but all that matters is that you're still standing.

— Leslie-Ann R. Paet (@babe_larp) March 4, 2015
@papertimelady #DearMe don't be afraid to say your ideas out loud. They're not dumb and you're not dumb.

Love,

Slightly-Less-Insecure-Me

— Ms.WritersBlockBlues (@RoseannaRants) March 3, 2015
#DearMe your flaws are only skin deep and one day you'll fully understand that, just always know that i'm proud of you no matter what

— rayce untalan (@UntalanRayce) March 4, 2015
#DearMe You will not go into the kitchen & eat. It is past midnight. Go to bed! 😔

— MsHeartAttack (@Ms_HeartAttack) March 4, 2015
HuffPost UK Lifestyle are running a month-long campaign during March called All Women Everywhere, championingwomen from all walks of life. If you would like to contribute, please email us here.
SEE ALSO:

Stunning Time-Lapse Of How Iranian Beauty Has Changed Over 100 Years