Qualcomm Snapdragon 810 processor (64 bit, Octa-core)
5.5-inch curved 1920 x 1080 screen
2GB RAM
16GB Storage (plus MicroSD)
13mp rear-camera with laser focus
3,000 mAh battery
Android 5.0.1
"Boldly contoured. Impressively tough. Exceptionally capable. However you look at it, the new LG G Flex 2 is a departure from convention."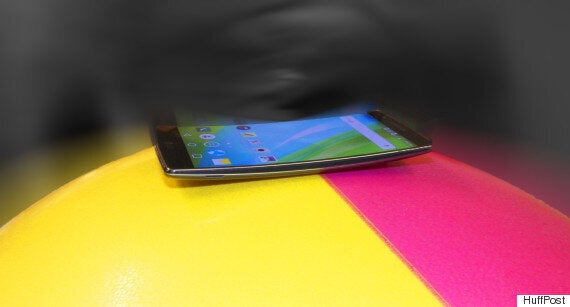 First, some context: the LG G Flex 2 is the last smartphone I will review for the Huffington Post. I am moving on to pastures new, and I might never again get the chance to write a review with the overtly personal, conversational and occasionally slitheringly sarcastic tone that being a blog-meets-news site allows us the freedom to explore in our tech pages.
It's in this sense that the LG G Flex 2 is — to be outright and frank about this — an incredibly irritating phone.
Why? Because for a reviewer looking specifically to have fun with a review — to mock, tease and josh the device in question, to roughhouse and manhandle it like a hyped-up sixth former gathering signatures on his shirt on the last day of summer term — there is no finer prospect than the sequel to the LG G Flex. It looks ridiculous, curved like a high concept, Jaguar-melting London skyscraper. It has a self-healing backplate that obviously, if you really try to test it, doesn't quite work. It's plastic, and hot, and doesn't really seem to make any sense.
I was all primed to make fun of it. I was looking forward to it. I couldn't wait.
Thing is… it's really good.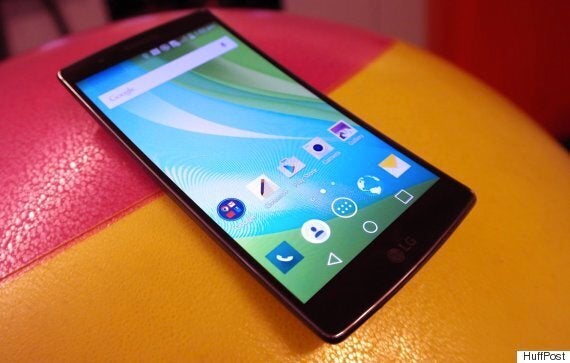 The LG G Flex 2 is outwardly a single feature device. That feature is that it is curved. You should know that by now.
But it's not really a single feature device. It's actually very well specced. The new Qualcomm 810 processor (octa-core and 64 bit) is an incredibly powerful chipset, prone to get warm and pop-up a warning message — or by some accounts outright hot, to the point of affecting performance — but also highly capable for everything from productivity tasks to gaming.
The camera is the same 13-megapixels sensor as the flagship G3, with a laser focus system that helps it take sharp pictures quickly. It also features a dual-LED flash for close-ups, and improves the 'Gesture Shot' distance to 1.5 metres - so you can wave your hands to take a picture when, for instance, holding a selfie stick — which you should never do. It takes good, detailed pictures — not as large as some, and not as straightforwardly excellent as the iPhone 6 — but very decent, and it can record in 4K too. Unfortunately the front-facing camera is only 2.1 megapixels, which is low compared to some other competitors.
In the other key areas the G Flex 2 performs well. It has a 3000mAh battery, which charges quickly and holds its charge well — giving you around two days of general use, or a day of very heavy use. The screen is "only" 403 pixels-per-inch, which pales in comparison to some handsets like the the recently announced Galaxy S6 but in practice is perfectly acceptable. The colours are rich and the blacks are (sigh) black. The speaker is singular, and a bit weak, but it's not terrible either.
The version of Android 5.0.1 the G Flex 2 runs is pretty clean, retaining LG's flat Material-like design language, Knock Code security, a neat keyboard and Dual Window, which lets you run some apps at the same time as each other. There's also Glance View, which lets you pull down a mini notifications window when the screen is off, which is handy but not a game changer. The unit we tested was a South Korean unit, so we haven't seen the UK app line-up yet, but it should be fairly standard with the addition of LG Health and some other bloatware.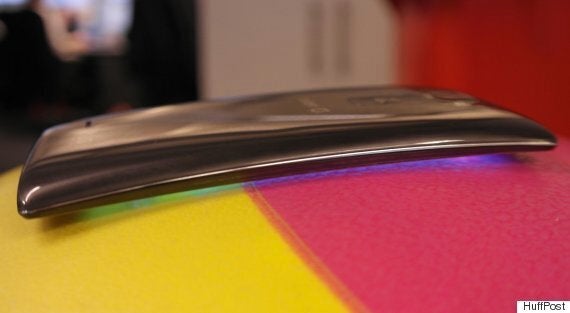 So this is a well-specced, speedy little phone with rock-solid fundamentals.
It's also curved. And that's the main feature here. So what's it like?
Well, it's… odd. But not unpleasant. The curve is helpful when pressed against the cheek for calls, and really does help improve audio quality. It slides neatly into a pocket and is naturally comfortable. It even seems to help with browsing and typing, giving a more natural surface for the fingers to work with. Unfortunately it's not aided by the cheap plastic feel of the back plate. (The back plate, incidentally, is meant to be 'Scratch Proof' but in our tests totally failed to deal with fairly normal scratches from keys — we recommend using a case anyway.)
In reality however, the curve is not as pronounced as you might think at first. The design of the phone is made to visually enhance the sense of curvature, but it's a shallow curve. If the phone was the edge of a ball, the ball would be about 1.5 metres wide. As a physical object it's a huge leap from the concept-y original — this looks like a phone, that is curved, not a curved thing that is also a phone — but it's not going to be to everyone's taste.
The practical benefits of the curve are also open to debate. LG says it helps protect the screen from cracking, as it can't land 'screen-down'. This might be true, but we didn't dare drop it to see. They also say it helps improve movie content, but we couldn't notice a difference. Audio quality and 'feel' aside, this is a largely aesthetic feature. It's a nice one, and it's certainly 'different', but the overall feel of the phone isn't in the same premium class as the iPhone 6 or the Galaxy Note 4, for instance.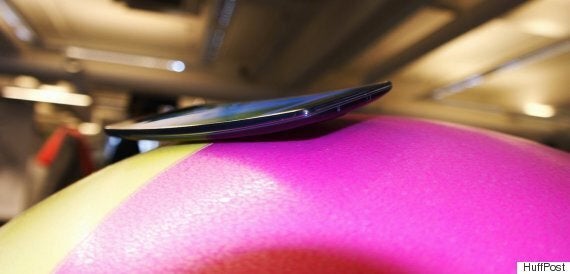 The G Flex 2 is a weird phone. LG knows this. Everyone knows this. We knew it going into this review.
What we didn't know is that it would be so solid. Everything you need from a phone is there, plus a curve of dubious value, but obvious quality. It's not perfect — LG's Android skin is still less enjoyable to use than stock Android, the battery could be even better, the camera is only a B+ compared to some, and it has a cheap plastic feel — but it's an interesting, high-quality phone in its own right.
It didn't let me have as much fun with this review as I was hoping for. But it did let me have fun with a phone. And I suppose that's better than nothing.

Popular in the Community