Around 20 students in Sheffield occupied Nick Clegg's constituency office in the name of free and accessible education for all on Wednesday.
The Liberal Democrat leader, bitterly remembered by student voters for tripling instead of abolishing tuition fees, had his office subject to a 'flash occupation' in an attempt to turn the space into "something that was actually productive", one protester claimed.
Josh Berlyne, a second year student and member of the 'Free University Sheffield' campaign, told The Huffington Post UK: "The reason we chose to occupy Nick Clegg's office is because he and the Liberal Democrats are the symbols of betrayal to students."
"We're not satisfied with what the main political parties have to offer us," he said. "£6,000 a year fees aren't anywhere near enough."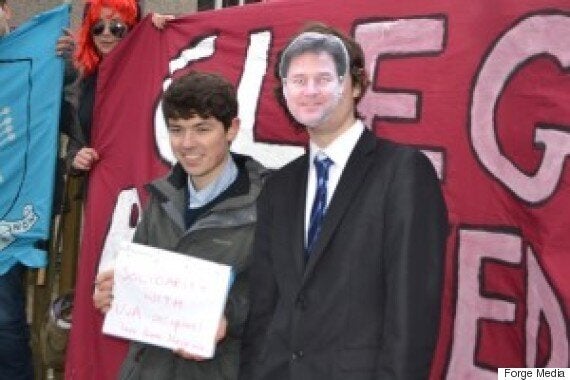 One protester even donned this Clegg mask
Police attended and ejected the anti-Lib Dem protesters, but were not necessarily unsympathetic to their cause.
One South Yorkshire police officer admitted to a student journalist: "No one is going to vote for them anyway."