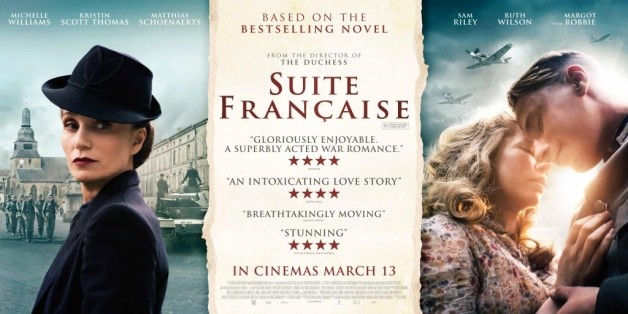 To celebrate the release of the extraordinary romantic Suite Française, in cinemas March 13, we're giving one lucky person the amazing chance to win a luxurious trip for two to Paris! Over the next four weeks, we're going to introduce you to the incredible story of Suite Française and what makes it the must see film in March. The film features an all star cast of Michelle Williams, Matthias Schoenaerts, Kristian Scott Thomas, Margot Robbie, Sam Riley and Ruth Wilson.
Click here for your chance to win
Based on the best-selling book by Irène Némirovsky and set during the Second World War German occupation of France, SUITE FRANCAISE tells the story of Lucile Angellier (Michelle Williams) as refugees pour into her small town, soon followed by a regiment of German soldiers who take up residence in the villagers' homes. Lucile's life is turned upside down and is further complicated by the arrival of refined German officer, Bruno (Matthias Schoenaerts).
Romance
At the centre of Suite Francaise is a love story,a fobidden love story to be precise. Lucille (Michelle Williams) lives under the rule of her opressive mother-in-law (Kristin Scott-Thomas) as she awaits news from her husband, a prisoner of war. Lucille's life changes forever when a young German solider, Bruno von Falk (Matthias Schoenaerts) is posted to live with them. But soon, a powerful love draws them together and traps them in the tragedy of war. Director, Saul Dibb suggests "this love story is the catalyst that sets her (Lucille) free and politicises her to go on and do something else."
Watch the trailer here:
For more information about the film follow Suite Francaise on Facebook and Twitter
For the chance to win this amazing trip to Paris, simply watch the trailer and click here to answer one easy question.