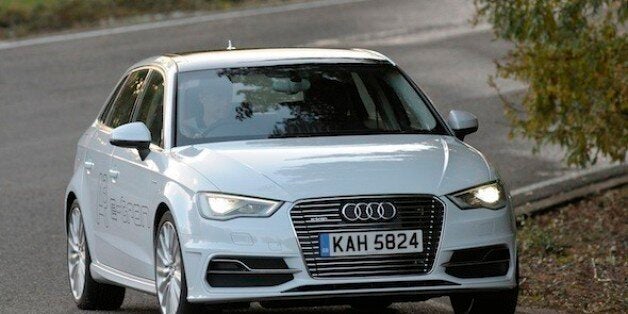 Unless you've been living under a rock for the past few years, you can't have failed to notice that electric cars have taken off in a big way. After a shaky start, manufacturers are finally beginning to win round consumers, who were initially concerned by 'range anxiety', and are moulding an emissions-free future in their own images.
Audi – long regarded as a pioneer of automotive technology – has been developing battery and hybrid electric systems under its 'e-tron' brand umbrella since 2009, and last year released its first production model, the A3 e-tron. Here we chronicle Audi's forays into this exciting new chapter of motoring history, beginning with the 2009 Frankfurt motor show and a bright red concept car.
The Frankfurt show was when Audi first set out its vision of electric motoring. Back at a time when the world was getting used to hybrid tech, Audi sought to prove that electric cars could be just as much fun as their petrol counterparts, and what better way to do that than with a low-slung sports coupe?
While it pointed the way to the later R8 e-tron supercar, Audi's original e-tron concept showcased the thinking and design concepts that have filtered down into the rest of its electric range. Accepting that electric vehicles were limited by the weight and power of the battery technology at the time, Audi took a holistic approach to designing the vehicle.
Relying on the expertise of its technological partners to develop lithium ion technology – the only battery type deemed light and powerful enough for use in vehicles – Audi instead focused its attention on making the car as light and efficient as possible, ensuring not only a reduced burden on the batteries, but also an increased potential for performance.
All of which made the e-tron concept a rather devastating device. With a horsepower equivalent of 309bhp, Audi claimed a 0-62mph time of 4.8 seconds – bang on the money for a sporty two-seater coupe – coupled to a 154-mile driving range. The electric performance car was very much on the map.
A number of other e-tron badged Audi concept cars appeared at motor shows over the following years, with some showcasing variations in the original concept's drivetrain, and others focusing on Audi's developments in petrol hybrid technology. However it wasn't until 2012 that we were to get a real taste of what an electric Audi road car could really be like, when the R8 e-tron proved its worth.
Emissions-free Nurburgring glory
Audi exploited the success and popularity of its mid-engined R8 supercar to focus attention on its e-tron project, by creating a futuristic looking, all-electric version, which was due to head the range, sitting above the V10 Plus model.
Replacing that car's sonorous 5.2-litre V10 engine were two electric motors, developing the equivalent of 380bhp. Applying the learnings of the e-tron concept, this R8 was comprehensively re-designed, with a body made entirely from lightweight carbonfibre, and featured innovations such as a heat pump to more efficiently warm the cabin.
However, a performance car isn't worth its salt unless it can put in a decent lap time at Germany's fearsome Nurburgring Nordschleife race track. The R8 e-tron didn't disappoint, with a highly credible time (even for a petrol car) of 8mins 9secs – then a world record for production electric vehicles.
Although the R8 e-tron never made it to full production, aspects of the technology have filtered down into more attainable models in the brand's huge range, namely the Audi A3 e-tron, with its plug-in hybrid system.
The first e-tron model available in showrooms, the A3 e-tron uses a 1.4-litre turbocharged petrol engine mated to an electric motor for a combined power output of 201bhp. However, despite being able to get from 0-62mph in a respectable 7.6 seconds, this A3 emits just 37g/km of CO2 and has an astonishing 176.6mpg claimed fuel economy rating in test conditions.
The secret behind this impressive blend of attributes is the e-tron's ability to run for up to 30 miles on its on-board battery pack alone – allowing most daily commuters to get to and from work without using a drop of petrol.
This won't be the end of e-tron. Audi has already confirmed a hybrid version of its leviathan Q7 SUV, which is expected to bring green credentials to a genre of car more normally associated with conspicuous consumption and environmental apathy. The A1 is also likely to get the plug-in-hybrid treatment, too; previewed by a concept version capable of 282mpg in test conditions.
Whatever comes next, it is projects such as these e-tron models that show that the future of the automobile is in safe hands.