Cheryl Fernandez-Versini has proven herself over the years to be a versatile style icon capable of pulling off all kinds of looks… but we're not sure her latest fashion choice is among her strongest.
SEE MORE:
During a taping of Graham Norton's talk show, Chezza threw on some comedy glasses with huge eyebrows attached, to promote her upcoming appearance on Comic Relief.
We're not sure exactly what the context was, you'll have to wait until the episode airs on Friday night to find that out, but what we are sure of is that she should maybe think twice before revisiting the Su Pollard look in future.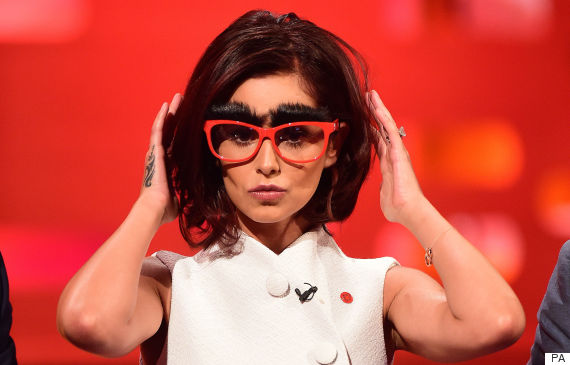 Cheryl Fernandez-Versini
Cheryl also gave her new hairstyle its first outing on 'The Graham Norton Show', where her fellow guest David Walliams revealed an embarrassing secret to the studio audience - that she'd once turned down a date with him.
He explained: "When Girls Aloud came along I met Louis Walsh and asked him if any of the girls were single and he said he would ask. I thought he would do that discreetly, but he called a meeting of all of them and asked, 'Do any of you want to go out with David Walliams?'
"It was a 'No!' And that was the end of that."
As well as Cheryl's appearance in a Comic Relief sketch, this year's Red Nose Day is shaping up to be an impressive one, with Dawn French set to reprise her role as 'The Vicar of Dibley', and Rowan Atkinson donning his tweed suit and playing Mr. Bean for the first time since 2012.
LIKE US ON FACEBOOK | FOLLOW US ON TWITTER