In-car cup holders are a great example of a simple technology which is both extremely poor and totally resistant to change. Somewhere along the line we all agreed the best way to hold a beverage while driving was in a way which would, by definition, result in a potentially life-threatening spill.
This can change. A new Kickstarter project has come up with a new cup holder which fits into almost any car, and is able to keep your drink level even while your car is not.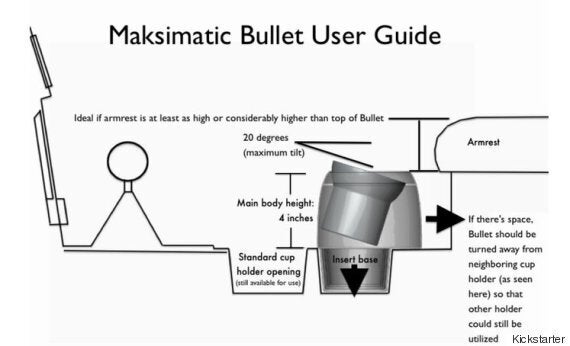 "The Maksimatic Bullet is an aftermarket cup holder attachment which hosts a swiveling cup that hangs into a cavity, tilting up to about a 20 degree angle on a 360 degree joint. It essentially does everything that the Maksimatic cup holder does. It is not only gyroscopic (which means it is auto-leveling) ; it is especially, centrifugal (which means it will tilt during rapid changes in velocity such as braking, sharp turns etc) yay!"
'Yays' aside, it looks like the team have a good idea on their hands — and it's patented — though obviously as with all Kickstarters your making a bit of a leap of faith if you choose to kick in $25 to buy one...
Popular in the Community