When Kate and David Ogg were told they were expecting twins after three years of trying to conceive, they were understandably over the moon.
But when Kate went into labour at just 26 weeks, the couple's world came crashing down around them when they nearly lost one of their twins.
In the heart-wrenching video above, Kate describes the moment that her son, Jamie, was "brought back from the dead" after doctors told the couple that he would not make it.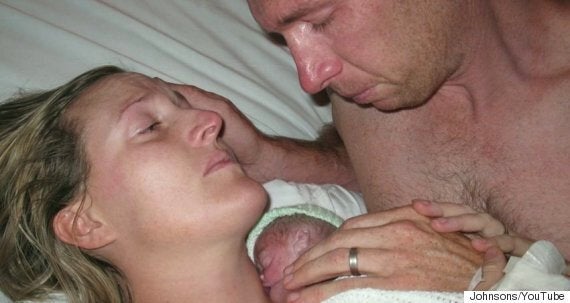 Kate, David and baby Jamie
"Jamie didn't make it, we've lost him," the doctor said, after asking if the couple had chosen a name for their son. Their other twin, Emily, had been delivered safely and was doing well.
Kate took Jamie from the doctor, unwrapped him from his blanket and clutched him to her chest. She told her husband to take off his clothes and get in bed with her to give their son skin-on-skin contact.
"He was cold and I wanted him to be warm," she explains, wiping away tears.
"We were trying to entice him to stay. We explained his name and that he had a twin that he had to look out for and how hard we tried to have him," she added
"He suddenly gasped... then he opened his eyes. He was breathing and grabbing Dave's finger.
"I'd carried him inside me for only six months - not long enough - but I wanted to meet him, and to hold him, and for him to know us."
Kate and David shared their story for Mother's Day as part of a Johnson's series.
"This is a beautiful, powerful story that highlights one mother's perspective of how her instinct to hold and talk to her baby changed their lives. We hope to share many stories of inspiring and loving parents that are raising happy and healthy babies," the video description reads.