Bramley wrote after the experiment: "I no longer have to wear this blasted pregnancy suit. I never want to see it again quite frankly."
But some of their fans felt that the trio should experience the full wonder of birth, and so dared them to try a machine that emits electric shocks to simulate labour.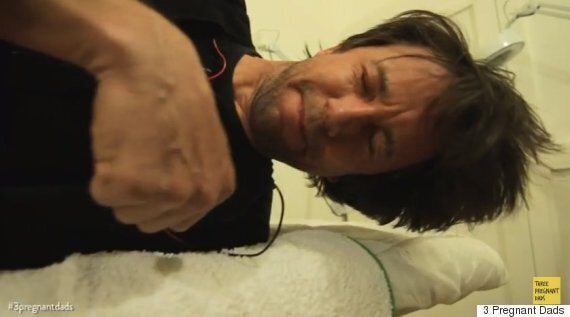 Bramley, 44, who has a one-year-old son with wife, Mondrey, said: "I felt like I had been turned inside out. I am tired and emotional and am sapped of all energy."
Hanson, 46, sounded positively traumatised - he has a 12-year-old son. "I'm really not very good with pain. And yes I know it's not half as traumatic as the real thing and blah, blah, blah. But I'm still not happy."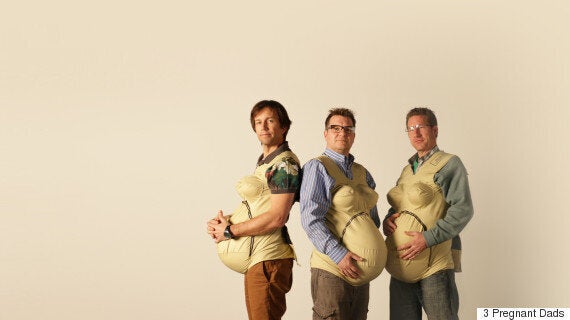 The original challenge involved carrying out everyday tasks while wearing their suits including travelling on public transport, working out in the gym, going to the pub and wearing their bellies to bed.
The men revealed that after the first day of 'pregnancy', they felt like they'd taken part in a rugby match.
"We had aching backs, bruises, rashes and a general sense of annoyance," Bramley tells HuffPost UK Lifestyle.
Bramley, Hanson and Biggins, who are directors of company, The Book of Everyone, came up with the idea after discussing their latest personalised book project: The Book Of Mum.
The men - who are all in their forties - wanted to show their gratitude to mums worldwide in a strong and meaningful way. And so Three Pregnant Dads were born.
So what's it actually like to carry a pregnancy suit day-in day-out?
The empathy belly itself features a pair of fake breasts as well as a baby bump, altogether weighing a hefty total of two and a half stone.
In addition to being a bit of a faff to lug about, it's also designed to put pressure on the bladder, stomach and lungs - leaving the wearer very uncomfortable.
While they've had a pleasant response from most women, the dads said that the response from a lot of men was not what they had hoped for.
One surprising response to come from the general public was all of the misogynistic comments, says Hanson, who originally came up with the idea of wearing pregnancy suits.
"It's strange how many men don't seem to appreciate women," he adds.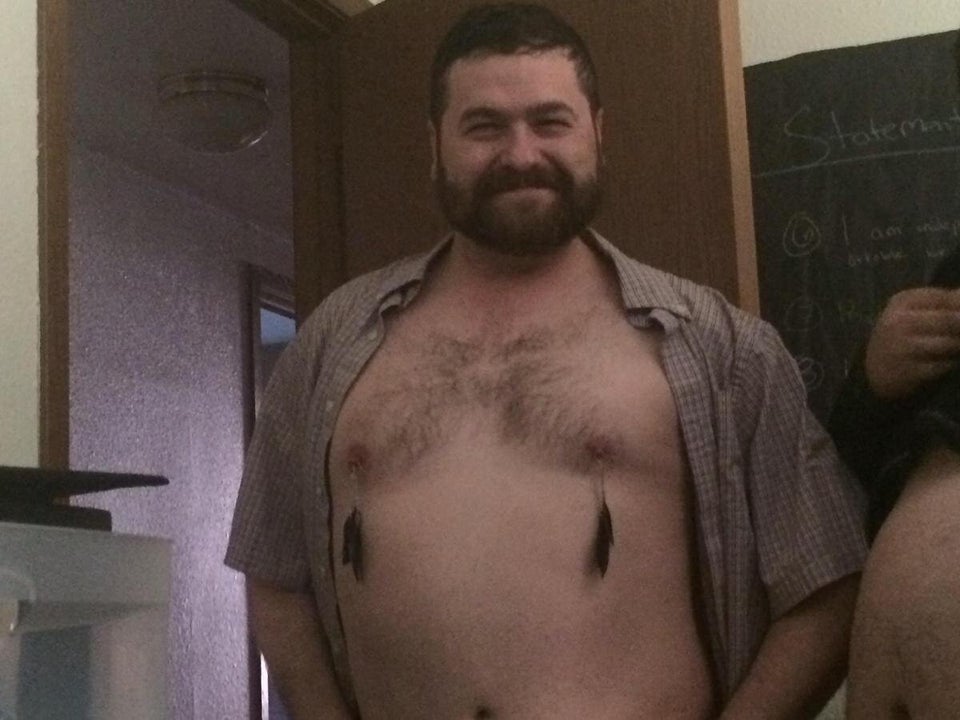 18 Dads Who Totally Rock
Other responses have varied, says Biggins, with some funny looks being exchanged when the trio hop on public transport: "Women generally think you're great in a pregnancy suit. Men think you're a plonker.
"Five-year-old boys think you're a punch bag."
There have also been issues with peeing - namely having to sit down to do one's business.
But, the three pregnant dads say that it has created a wider debate around dads and pregnancy, which has been a high point for them.
"And we've left a trail of laughter and wonder wherever we go," adds Biggins.
When asked about what this has taught them about mothers so far, Bramley revealed: "That they are a whole lot braver than we are."
Meanwhile Hanson added: "Sometimes you can only show how much you love someone by doing something daft, pointless and difficult. And Mum, I do love you."