Susanna Reid has already worked her magic on everyone from David Beckham to Luke Evans, but look who's got her giggling now... it's David Cameron.
The Prime Minister appeared on 'Good Morning Britain' on Tuesday morning, in a segment which saw the presenter interview the PM in his family home.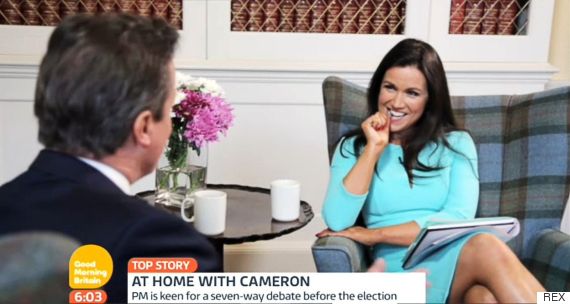 David Cameron and Susanna Reid
Susanna's interview focused on the PM's home life, and she couldn't resist cheekily asking him how well his wife Samantha would do if she had his job.
After asking her question, Susanna giggled, as David admitted that Samantha would probably do rather well as PM.
"She's very good at giving a 'big picture' view," he stated.
Susanna also quizzed David on how he strives for a good work-life balance.
"I take them [the children] to school maybe once a fortnight, sometimes that slips and I feel sad," he admitted. "That sort of time, taking them into school, chatting with the teacher, finding out how they are getting on, I love all that."
Last month, Susanna's cheeky interview style delighted Becks, and she also squeezed in a number of questions about what life is like in the Beckham household.
Susanna was also a hit with 'Dracula' star Luke Evans, who ended his interview by leaning across and pretending to bite her neck.
Watch Susanna's chat with David Cameron above…
LIKE US ON FACEBOOK | FOLLOW US ON TWITTER