A French dating site which caters to married women looking to have affairs is being taken to court for allegedly breaching the country's civil law.
Gleeden, which almost exclusively markets itself to married women and boasts almost two-and-a-half million users worldwide, is being targeted by conservatives and Catholic pressure groups in France due to what they call a breach of the French civil code.
Article 212 of the code, which is enshrined in law, was written in 1804 during Napoleonic times and states "Married partners owe each other the duty of respect, fidelity, help and assistance."
The Association of Catholic Families (AFC) claims the website is illegal based on this law.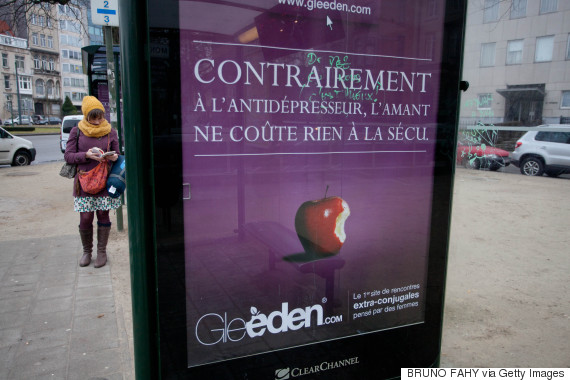 An advert for Gleeden in Brussels reads: "The Lover Doesn't Cost Anything To Health Insurances, Not Like Antidepressants"
"There are plenty of other websites out there which promote sexual contact between individuals, but what makes Gleeden different is that its very business model is based on marital infidelity," says Jean-Marie Andres, president of the AFC.
"It states quite openly that its purpose is to offer married women opportunities to have sex outside the marriage.
"But here in France, people and parliament are all in agreement that marriage is a public commitment. It's in the law. What we are trying to do with our suit is show that the civil code - the law - has meaning."
Judges in France are free to interpret these codes as they wish, meaning the case could go either way.
"Fifty years ago many more people would have been shocked by what Gleeden is offering," family law specialist Stephane Valory explained.
"Today it is only a minority who notice. So the courts will certainly not rule in the same way as they would have 50 years ago."
@Clelab @Adrienne2_0 @robertMdeLyon Au boulot les #Lyonnais !!!

#StopGleeden pic.twitter.com/iqzsbiHfcM

— Tangodeo ن (@tangodeo) November 27, 2014
Some posters have been torn down by critics
Users are standing behind the website, with 44-year-old Margot telling the BBC she had no intention of leaving her husband but joined because she was sexually unsatisfied.
"I chose Gleeden precisely because it is for married people. It means that the person you meet knows your situation. There's no deception. We can talk openly about husbands, wives and children," she said.
"Also when we are both married, we both accept we only want to go so far in the relationship. It's easier to keep things uncomplicated. We respect each other's private life."
She understands where the controversy comes from, however:
"Let's face it - it is promoting infidelity. In fact, it's selling infidelity. It's making money out of it. People could easily be pushed into the act after seeing those advertisements," Margot added.
"But let us not be hypocritical. It's not black and white. In most marriages at some point there is infidelity, but that does not mean the marriages collapse. Sometimes the infidelity is what saves the marriage."
Keep Calm and Cheat On ! pic.twitter.com/97SOoMOh0A

— Gleeden.com (@Gleeden) December 10, 2013
Solene Paillet, a spokesperson for Gleeden, said: "We didn't invent adultery. Adultery would exist whether we were there or not.
"All we are doing is filling a demand. If people see our advertisements and are shocked, well there is no obligation. If you see a nice car in an ad, you aren't obliged to buy it. You make your own mind up."
Gleeden have also hit headlines recently for a series of bus adverts which caused public outrage, particularly in the highly religious city of Versailles.
Bus company Keolis said it had received 500 complaints in one week for a set of posters emblazoned on their vehicles, compared with the average 900 per year.
Spokespeople for Gleeden cried censorship, calling the reaction "exaggerated".
"Infidelity pollutes the couple and the family and destroys the social fabric of France," critic Aude Ducros said.
"It is immoral to be publicly promoting adultery, and hurtful to infidelity's victims."
It may be too much too late, however, as the last six French Presidents have been embroiled in some kind of adultery scandal and infidelity seems to be creeping into the realm of commonplace in the Republic.
SEE ALSO:

UK's Most Adulterous Towns Revealed