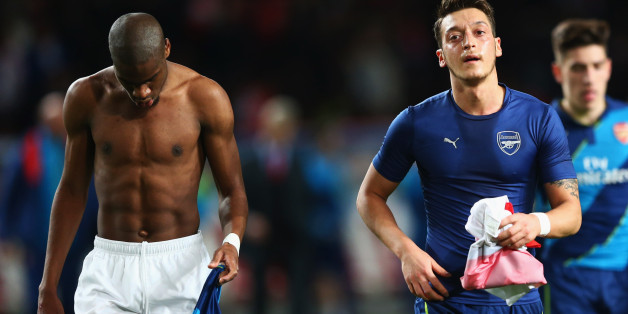 Michael Steele via Getty Images
Arsenal's Mesut Ozil has come under fire for swapping shirts with Monaco's Geoffrey Kondogbia at half time. The Gunners led the French side 1-0 at the break as Ozil walked off the pitch and exchanged his shirt with midfielder Kondogbia.
Commentator Clive Tyldesly, who was working for ITV, expressed his disgust at the footballing tradition, which normally takes place at the end of the match, "I don't quite know why we are seeing this," Tyldesly said in anger as the players walked off the field.
Ozil who faces almost daily criticism from Arsenal fans didn't help his cause, with his antics also enraging former Manchester United midfielder Paul Scholes: "I don't like it. At the end of the game, maybe. But still I'm not a big fan then. You do it that once you're in the tunnel or in the dressing room, out of the way of everyone. At half-time, it's not for me."
In which shirt has Mesut Ozil played better in?

RT - First Half

FAV - I'm not sure that it matters. pic.twitter.com/V7PdKkn4PJ

— bet365 (@bet365) March 17, 2015
Why are people having a go at Özil? The Monaco player asked for his shirt. People should know Mesut by now, he always assists.

— 1886 (@1886_blog) March 17, 2015
Mesut Ozil appears to be wearing a new shirt this half; does anyone know why? #ARSVMON

— The Short Fuse (@TheShortFuse) March 17, 2015
Is he wearing Ozil's half time swap shirt? That burns slightly but forbidden snacking seems to have helped pic.twitter.com/qq7iGL9oaW

— Daliso Mweene (@Daliso_AFC) March 17, 2015
Kondogbia wanted Özil's shirt so badly he couldn't wait until the end of the match. pic.twitter.com/T8h13lmmQP

— Arsène's Son (@hughwizzy) March 17, 2015
Arsenal, who went on to win the match 2-0 with goals from Olivier Giroud and Aaron Ramsey and nearly performed their 'Miracle in Monaco' with Ozil gaining plaudits for his performance during the match but crashed out of the Champions League on away goals as Monaco won the first leg 3-1.
It's not the first time an Arsenal player has been caught swapping shirts at half time, former player Andre Santos swapped shirts with Robin van Persie at Old Trafford in 2012 as the match was televised like on Sky Sports.