UPDATE: Starbucks Ditches #RaceTogether But Insists It's All Part Of The Plan
A bid by coffee giant Starbucks to engage US customers and baristas in positive discussions about race looks to have backfired.
Race Together involves baristas voluntarily scribbling the words on take-away coffee cups and: "Is an opportunity to re-examine how we can create a more empathetic and inclusive society – one conversation at a time," said CEO Howard Schultz in a statement online.
It comes in the wake of the deaths of unarmed black men Michael Brown in Ferguson, Missouri and Eric Garner, in Staten Island.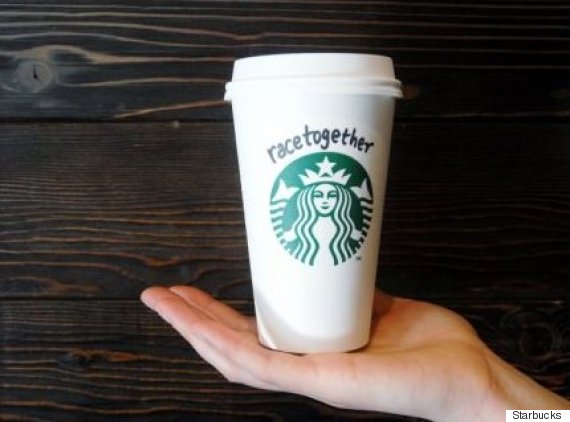 Race Together hopes to engage customers and baristas on conversations about race
The drive, Schultz adds, came because: "We are Starbucks should be willing to talk about these issues in America. Not to point fingers or to place blame, and not because we have answers, but because staying silent is not who we are."
SEE ALSO:
No sooner was it launched however, a disdainful internet had hijacked the hashtag and the levels of snark were high…
Barista: How would you like your coffee?

Me: Black

Barista: Actually don't you mean "African-American"?

March 18, 2015
walked into @Starbucks and started talking with the barista about a jewish carpenter i know #racetogether

— Christian Hipster (@ChristnHipster) March 18, 2015
If @Starbucks puts #RaceTogether on your cup, take their tip jar and ask if they want to discuss redistribution of wealth. #tcot

— Jeff Kuhner (@TheKuhnerReport) March 18, 2015
Barista: Your total is $5.45

Me: You can just put that on my reparations tab. Thanks. #raceTogether

— Zach Stafford (@ZachStafford) March 17, 2015
I am desperate to hear a Starbucks barista studying Lesbian Dance Theory at the local community college tell me about race. #racetogether

— Ben Shapiro (@benshapiro) March 17, 2015
Dear white people,

Racism, it's your fault.

It's not a together thing.

It's a you thing.

March 17, 2015
Not sure what @Starbucks was thinking. I don't have time to explain 400 years of oppression to you & still make my train. #RaceTogether

— April (@ReignOfApril) March 17, 2015
"Come try our House Blend... Perfect for all you Ethnic Blends"

March 18, 2015
Some also pointed out the first news release promoting the dialogue featured coffee cups held only by white hands…
y'all realize there are no coloured hands in the press photos right @Starbucks #RaceTogether pic.twitter.com/Epd9knTYfz

— black power alt bro (@vidalwuu) March 17, 2015
While the concept may certainly be considered admirable, Entrepreneur points out: "Putting this immense task on workers, even if it is voluntary, is taxing and unfair. Customers sue restaurants and attack employees over problems as inconsequential as order mix-ups."
This is going to be one to watch...