'Fortitude', currently thrilling and perplexing viewers on Sky Atlantic as it ebbs towards its series finale, was originally intended to be a film, until the show's producer persuaded his writer to swap genre.
Patrick Spence tells HuffPostUK: "There were 25 returning characters in this script, and I realised we couldn't possibly tell all those stories in 120 minutes.
"More time would allow the narratives of those characters to unfold in a more complex, meaningful way."
Fortunately, writer Simon Donald was happy to be convinced, no doubt helped by his huge appreciation for David Lynch and what he did with 'Twin Peaks' two decades before.
Patrick agrees. "Twin Peaks is something Simon is very influenced by.
"He had this idea of something going on in a town that he had to explain, that it was a wilderness town, hard to pin down."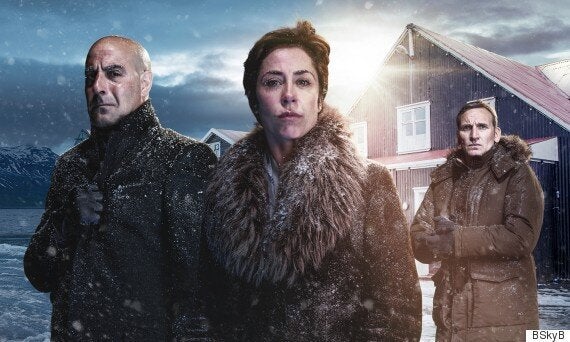 Stanley Tucci, Sofie Grabol and Christopher Eccleston star in 'Fortitude' set in the Arctic
Sure enough, 'Fortitude's narrative – spread between the characters of a remote Arctic town, following the murder of an eminent scientist who may or may not have discovered something preventing the local governor's dream of development – has that same menu of the surreal, potentially macabre, despite the bleak beauty of the environment.
"Conditions were awful for filming," remembers Patrick, who also admits having to import snow from London – yes, really! – for filming. "We had lots of rain, horizontal rain sometimes, just never snow."
Why Sky? Turns out that had that a lot to do with timing, the TV landscape being a lot less full three and a half years ago when the project was first being pitched, than now with new projects being announced every week by Netflix, AmazonPrime and co.
"This is an amazingly long-running series," explains Patrick – 11 episodes in all, including a feature-length debut. "Back then, Sky was pretty much the only buyer willing to let us do what we wanted."
'Fortitude' also marks the first television lead role of screen star Stanley Tucci, an actor whose style has fitted seamlessly into the ensemble. "No one ever said to us we needed big name stars, but it definitely helped," remembers Patrick, of the cast which includes Sofie Grabol, Michael Gambon and Christopher Eccleston. "These actors all knew it was an ensemble, not having to hold it on their own."
HuffPostUK Entertainment are currently exploring the TV Revolution – exploring what we watch, how we watch it, and talking to the actors, writers and producers navigating this new Golden Age.
We're asking as many people as we can, if there is indeed a new golden age of TV, what is the show they think kickstarted it?
Patrick's answer is two-fold.
"Twin Peaks meant a major filmmaker was working with network TV for the first time, and he was rewarded with the space to create the story in his own, idiosyncratic, magical way.
"Also 'The Sopranos'," he adds. "During the run of that series, for the first time it was the writing that was noticed as much as any of the big names and that has definitely paved the way."
'Fortitude' continues on SkyAtlantic on Thursday evenings at 9pm. Watch the trailer below...
Popular in the Community