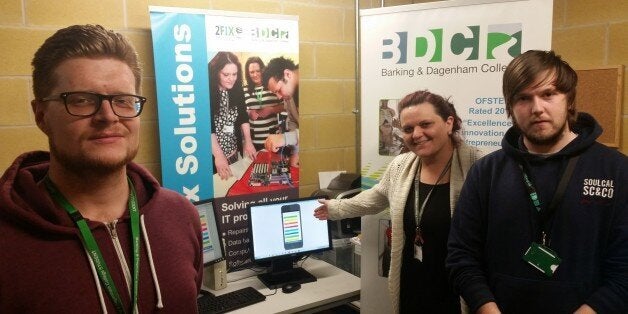 Time is money and when it comes to finding a treatment and care guidance for patients, doctors have to be precise and helpful.
The digital natives are taking over the digital immigrant world with advancing in technological tasks as effectively as ever. Two students from Barking and Dagenham College have been working with the North East London NHS Foundation Trust (NELFT) to design an app that will save mental health doctors valuable time when looking for treatment and care guidance.
Mark Bewes and Sam Bowen, both 26, study an Access to IT course at college and were delighted to help the Trust with the project. They both were commissioned by the Trust to provide a technical program in order to bring the new Doctors On Call Support (DOCS) app to life.
The app is believed to be one of its kind in the UK and aims to replace hundreds of pages of online guidance documents including policies and procedures. The app is quickly becoming an essential resource that mental health doctors across NELFT and junior mental health doctors in training are using again and again.
Ellen Kerr, manager of 2Fix Solutions at Barking and Dagenham College who mentored the duo in this project said: "This is our first project for NELFT and it is typical of the type of work our students get access to.
"Every industry sector is exploring online solutions, which means the demand for our service is looking healthy."
The Huffington Post UK managed to speak to Mark and Sam about their experience during the project and the success that they got from it.
What was it like to be working on this project?
Sam: "At first it was overwhelming. Building an app wasn't something we had done before and here was this massive client with a commission."
Mark: "I agree, I did feel the pressure too, but it was an incredible learning experience and very rewarding."
Did you find your college course was a source of encouragement for taking part in this project?
We are both on Access to IT course here at Barking & Dagenham College, and our tutor Ellen Kerr was our mentor on this project. On our course we study web design, and the principles that underpin app design are the same.
Real work commissions for students are part of everyday life here at Barking & Dagenham College, whether you are studying IT, TV and Film Production, or Painting and Decorating – every area is involved. It's not just the course work, it's about developing all those other employability skills too, whether you take a job or create your own job.
What challenges did you come across during the designing of this app?
The usual coding problems, where you had to figure out where you went wrong. It's a native app, which means it contains all the coding needed to run it and you don't need access to the Internet. The DOCs App has been installed on the mobile devices the doctors use, but by mid-April 2015 we hope it will also be on the Apple store to make to make it easier for the Trust's team to download it.
Getting the DOCS App submitted to the Apple store was a pretty challenging process.
Any particular features that you love about the app or more proud of than others?
The feedback from the doctors using it has made us most proud. They are finding it very easy to find the information they need at speed. Speed and accessibility were the most important features.
Do you think this new app has a potential in the future?
"Absolutely it would be perfect for any organisation where staff need to access important information when they are away from their desks. Just think how much paper and money could be saved." Said Mark.
What advice would you give for upcoming young entrepreneurs?
Sam: "It's a hard question to answer because I don't think I have found my feet yet. I've always wanted to create my own video games, but I underestimated how much I enjoyed designing this app and getting client feedback. It's been very satisfying. I think my advice is to keep your options open. There is no reason not to have a number of projects on the go at once. You never know what's going to work and what isn't."
"I am 26 now and I was in a dead-end job before I came back to college. I am now about to embark on an HND in Web Development at Barking & Dagenham College. A year ago I didn't even know what HTML was and now I'm working on digital projects. It has made such a difference to my outlook, and who knows where it will take me." Said Mark.