A Bahraini prince who Instagrammed a selfie of him running alongside the trumpeting Household Cavalry in Hyde Park this week should be arrested while he remains in the UK, according to human rights activists who accuse him of torture.
Bahraini human rights groups handed a dossier to the Metropolitan Police this week after it was made public that Prince Nasser bin Hamad al-Khalifa was in the UK. The groups allege he was involved in the torture of dissidents during the Bahrain protests of the 2011 Arab Spring.
Those campaigning for his arrest were not aware he was in the UK until the Prince himself posted a selfie video on Instagram captioned "That's how it feels and sounds when you run in Hyde Park, London."
In October 2014, the High Court ruled Prince Nasser had no diplomatic immunity against a potential prosecution, but the Met Police later concluded it did not have enough evidence for an arrest. International law means Britain has a duty to investigate potential war criminals on its soil - and a case was brought by a refugee known as FF who alleged he had been the victim of torture in Bahrain - though not that the Prince himself was the torturer.
Prince Nasser has strongly denied all the allegations against him. When the decision to revoke his immunity was made, a Government spokeswoman said: "As Bahrain has never sought anonymity or sovereign immunity from the English Courts for anyone in respect of this case, it expresses no view on the DPP's statement that immunity was inappropriate.
"This has been an ill-targeted, politically-motivated and opportunistic attempt to misuse the British legal system. The Government of Bahrain again categorically denies the allegations against Sheikh Nasser."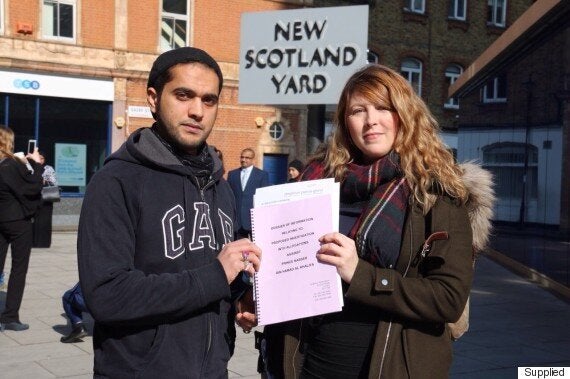 Bahrain activist Ali Mushaima and lawyer Chessie Aeron-Thomas
Lawyers for FF at Deighton Pierce Glynn now claim to have new evidence, including a statement from a witness willing to give evidence in a UK criminal court. FF said in a statement: "It is long due for justice to be felt in Bahrain."
On Friday, the new dossier of information was given to the Metropolitan Police SO15 War Crimes team at Scotland Yard, by Ali Mushaima, a Bahraini political activist, who has had his Bahraini nationality revoked after he was sentenced to 45 years in prison in absentia.
Deighton Pierce Glynn's Sue Willman said: "We are calling on the Metropolitan police to urgently open an investigation into the torture allegations since it seems Prince Nasser is in central London. There are a number of lines of inquiry to be pursued and we are asking the War Crimes team to agree to a meeting with us and our client."
A Met Police spokeswoman confirmed the dossier had been received by Scotland Yard on Friday.
"The information contained in the dossier will be examined by SO15 officers and given consideration in accordance with the agreed and published Crown Prosecution Service/SO15 War Crimes and Crimes Against Humanity guidelines," she said.
Calls to the Kingdom of Bahrain's Embassy in London went unanswered.