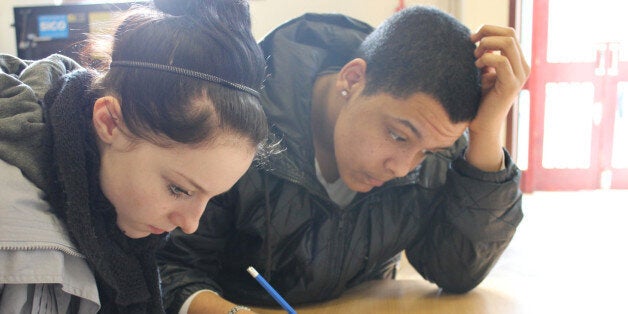 Two thirds of the current prison population were excluded from school. Every year in the UK, 370,000 young people are excluded from education.
The shocking statistics tell a simple story; youths who are kicked out of school face a bleak future.
That's where the Transforming Lives for Good (TLG) Education Charity comes in. The trust has come a long way from its humble beginnings in Bradford 15 years ago; David Cameron recently announced he would like to see a TLG centre in every city in the UK, and there are plans to open two more centres this year, taking the total number to 13.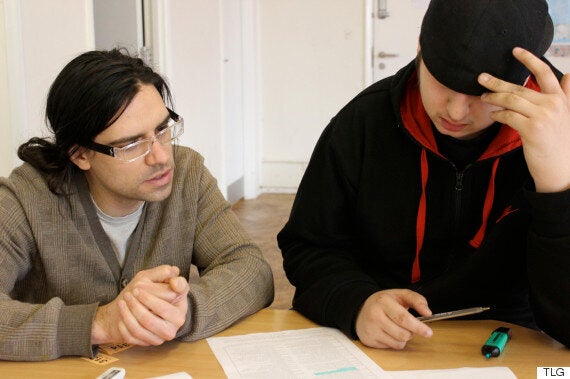 TLG centres give young people intensive one to one support to catch up on vital missed learning
The charity runs twelve week-long programmes to tutor students in small groups and give one to one teaching to get them back on track.
On visiting one of TLG's branches in Hammersmith, it's not hard to see where the prime minister's enthusiasm comes from.
Fifteen-year-old Steven* is back at the centre for a second time. He first attended one of the programmes, which help 11 to 16 year olds, when he was 13, but this time, he's back on his own accord.
"I've been given a second chance," he tells me. "I'm so grateful to be here now, otherwise I'd just be at home, with no education, and no hope really."
Steven is shy, and doesn't make much eye contact, but he visibly blooms when he starts talking about education.
"I'm going to take my GCSEs in May," he says, with obvious excitement. "English is my favourite. I love reading."
Steven is on track to get straight As in almost all of his exams and has his sights set on college - a far cry from the teenager who used to hate school.
"A couple of years ago I didn't want to learn," he explains. "I didn't go to school for about two years. I got arrested a lot. I was doing drugs nearly every day. I was in trouble with the police weekly and I was running away from home.
"The friends I was hanging around with didn't help as they were all doing drugs and getting arrested too. It was a bad environment."
Steven is by no means an exception; of the young people TLG work with, five out of nine stay they have taken drugs by the time they arrive at the centres.
"I just gave up and I didn't care about the consequences so I kept getting in trouble," Steven continues. "I didn't realise the impact it would have on my life."
After spending six months at the centre, Steven simply refused to go back.
"The teachers couldn't control me. There were fights every day and we were throwing things around and breaking things."
Steven was home tutored for a while, but fell back into a pattern of drugs.
Then, one day, he realised he wanted to change.
"I just woke up and stopped everything. I quit drugs, I stopped hanging around with my friends. I didn't leave my house for three months so I could avoid getting involved with the same group.
"I changed my group of friends. It was really hard, but it was worth it."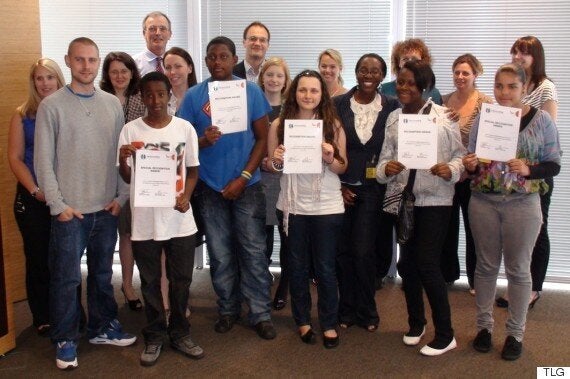 TLG provides opportunities for young people to raise their aspirations, partnering with law firms in the city like this one
Steven started to get back into education, and although he admits he still got into trouble "every now and then" says it was a "huge difference".
He enrolled in another school, but struggled being back in mainstream education.
"I could do the work but I'd get distracted easily and then get into trouble. I've always had a problem with keeping my concentration."
So, a few days ago, Steven returned to Hammersmith, and says this time round, things have changed.
"The first time I was here it gave me somewhere to go and took me off the streets. The second time round, I'm so grateful to be here, I'd be at home with no education otherwise. Instead, now I'm on track to take my GCSEs - drama, hospitality, business, maths and English."
Deborah Barnett, the centre manager at Hammersmith, says many of the students come to TLG with a sense of hopelessness.
"They feel like it's the end of the road for them, that there is no hope. But we step in and tell them it's just the beginning. My mantra is to tell them they are going back to school.
"When they arrive, the students are disaffected and difficult to engage. They're fed up, school has not been a good place for them.
"Their body clock might be out of sync because they're used to getting up late and going to be at 3am. It's hard for some of them to adjust. But we help them form good habits and we try to keep them focused."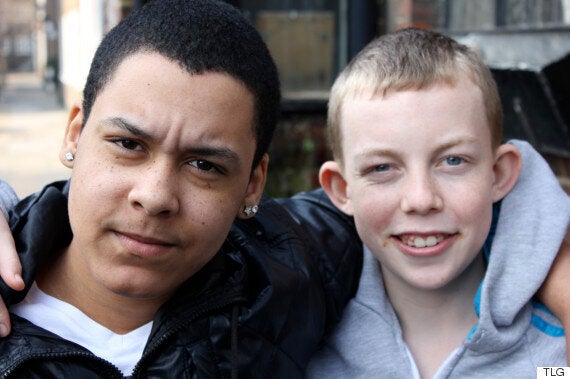 Darian (left) used to fight with teachers and walk out of school. Now he has passed his GCSEs and hopes to study drama at college. George (right) was helped to overcome his anger and control his behaviour after a history of being bullied at school
The programmes are designed to help students grow in confidence, and raise their aspirations. They teach the pupils ways to manage their emotions and behaviour, which they then hope will be applied in school. Of the 250-odd youths who attend the centres each year, 96% go back into mainstream education, further training or progress onto employment.
Deborah, who used to teach at a high-achieving school, says the number of children from disadvantaged backgrounds is "less than you'd expect" - around 50%.
"We had a student here who was from a private school but he'd done something really silly and got kicked out. He had everything going for him but his behavior was the issue."
For any student, being excluded from school is soul-destroying, Deborah explains.
"It has a crushing effect on them, especially if they don't understand the process. They don't have an outlet to voice their issues or their anger. I hear a lot of them say 'no-one understands me'. They say the school doesn't want them, so why should they go back? They have no ability to get back onto their feet.
"There is often an aspect of shame, the pupils must feel marginalised when they see their friends going to school."
Deborah is a big advocate of prevention, and says many schools could do much more to avoid excluding their students. "One to one can go a long way. One size of education definitely does not fit all."
Despite having a turbulent start to his education, Steven is evidently focused, driven and ambitious.
"I don't come here to make friends. I come here to work."
He's frustrated with the lack of work he's being given by his school saying, "I want more, I want to learn." And he's even trying to persuade his school to put him in for the higher English paper.
"I'm doing higher maths, and I want to do higher English too. Hopefully I'm going to get that changed."
Even though it's the first time we've met, it's obvious how far Steven has come in such a short space of time, and it's incredibly uplifting to see his excitement for the future.
"Coming here gives me confidence. It gives me hope. I can look forward to things now, but before I just didn't care what happened to me.
"I used to go out all the time, now I mainly stay at home during the weekdays to study so I can learn more.
"It would be good if there were lots more of these centers as it gives people a second chance so they can do something, instead of just staying at home and doing nothing."
But the path hasn't been easy. Steven admits its been incredibly hard to leave his old friends behind, and even now his problems aren't over - his dad has a serious heart condition.
"My mum keeps telling me he won't make it through this year. That's so hard to hear. I can see he's dying. He really struggles to breathe."
He's under considerable stress, but whereas before he may have turned to substances to escape, Steven is instead throwing himself into his studies.
So does he have any dreams for the future?
"Yeah," he says, smiling shyly. "I'm thinking about being a social worker. It helps if you have a past so you can relate to the kids. I have a caring personality so I think I'd be good at it. And I think it would be really rewarding."
The charity evidently has an effect on its influential young charges. But it's not a one way street.
"Every time a student leaves I cry," admits Deborah, with a laugh. "I get so emotional because it means the team has made a difference. We're sowing seeds in lives which we know will bear good fruits. I'm getting emotional just talking about it!
"We didn't give up on them. That's the most important thing."
*We have changed Steven's name to protect his identity.
Related