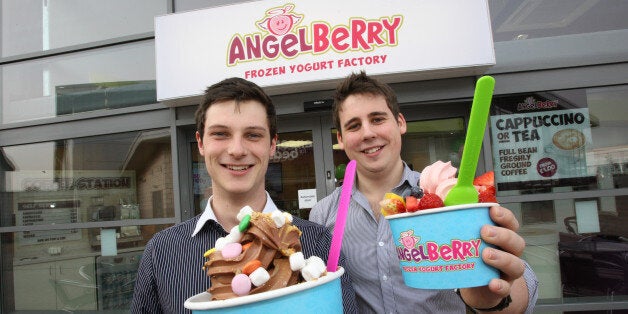 Starting a business from scratch is always a daunting prospect. Sunk costs can be huge, and the possibility of failure looms large.
However, for James Taylor and Ryan Pasco, two entrepreneurial young friends, the lure of success was too hard to resist.
James and Ryan, both 23, set up frozen yoghurt company AngelBerry in Bristol in the Winter of 2011, selling their product in a Hartcliffe shopping park, and have since gone on to open stores in Mauritius, South Africa and the UAE.
AngelBerry have also recently signed a deal for 80 stores across the Gulf States, and James and Ryan plan on targeting India next, where they've just returned from a Trade Mission with the British Chambers of Commerce.
The company now employs over 30 people and has a turnover of £750,000. James and Ryan also hope to open 15 more stores globally this year.
The Huffington Post UK caught up with co-founder James, and were able to ask him about the brand, and his plans for the future.
What was the inspiration behind AngelBerry?
The idea came when Ryan was in California on a summer holiday with his family. He saw the queues out the door of frozen yogurt shops and though that this is what the UK was missing. He approached me to see if I was interested in partnering with him to create a UK frozen yogurt chain.
After lots of research in Miami, we opened our first AngelBerry store in December 2011. During our research we visited 30 different frozen yogurt shops in 2 days, taking in the best and the not so good aspects of each store. By the end we knew all about the different machine manufacturers, product suppliers, store layouts, service style, flavour range, toppings, décor and what locations work. We took all of this information, and from that created AngelBerry.
Did either of you have any prior experience at marketing or selling?
Both of us come from business background. Both sets of parents have their own business, and we had each set up a company before AngelBerry. I ran a greengrocers, buying and selling fresh produce on a daily basis. Ryan set up an internet business selling holidays.
Neither of us were experts in marketing or selling, but we used a PR company to help polish our brand. It took at least a year until we were happy with AngelBerry in its colour scheme, brand positioning and operations. Every day we learnt something new, and we are still learning about business, marketing and how to expand further.
What challenges did you face when setting up your business?
Money was an issue to start with. We managed to finance all of our machinery and borrow money off family to get the business started. Opening in winter did put a downer on things early on, but once the summer came round we realised the potential of what we had started.
There was a lot of focus from us on educating our customers about what they were eating. Frozen yogurt and ice cream are two different things. We make sure that every customer is welcomed to the store, told how AngelBerry works (self-service, pay by weight) and offered samples of the product - This is policy in all AngelBerry stores across the world. We still have issues with customer service, and making sure staff are up to the standards we expect, but with our improved staff training program we have seen customer service levels improve massively.
What is your biggest achievement with AngelBerry to date?
Seeing our brand grow and expand internationally. We both have memories of one week working in the office in the UK, and then the next serving Mauritian customers attempting to communicate with them in French! We have some big developments in the pipeline which will hopefully come to fruition mid-late 2015.
We never expected the business to grow overseas. We always aimed to franchise, but within the UK. But naturally we didn't say no when the opportunity came knocking, and now there are two stores in the UK, four stores in Mauritius, two in the UAE and three in South Africa.
What plans do you have for AngelBerry in the future?
One of our main focuses at the moment is to reduce the sugar content of our products, and we now have a stevia based range which is low sugar and low fat. This range has gone down very well with diabetic societies and customers in all countries.
We see that sugar is the next battleground in terms of health because of the health issues stemming from overconsumption of sugar. We are offering our customers the option of a low sugar offering, without any loss of flavour or quality.
In terms of business development we are looking for new UK partners such as cinemas or service stations. This is one area we see room for large growth. Our newly designed kiosk, as used in cinemas in South Africa, offers a quicker Return on Investment, leaves a very small footprint and is totally self-contained. It is through these kiosks that we see most of our growth happening over the next 2 years.
We have also developed a hard pack supermarket product, the aim is that this will be available in supermarkets across all current territories.
We are also exploring India as a market for AngelBerry. In fact we've been on a trade mission to Mumbai with the British Chambers of Commerce to explore opportunities and have also exhibited at franchise show there with great success. We have store designs and kiosk concepts in place ready for the Indian market and plan to target the west and south cities first – including Mumbai, Bangalore and Hyderabad.
What advice would you give to upcoming young entrepreneurs?
One of the most important things you can do is keep your eyes open for opportunities, and say yes when they present themselves. Even if you don't quite know how you are going to pull it off, give yourself the challenge as you never know where it will take you.
Otherwise read and learn as much as you can about business, from finance, development to operations. It will allow you to view every decision from multiple angles before making your decision.
Finally, learning from other business professionals, who have already experienced what you are trying to achieve, can really help. Business networking groups, such as those run by local Chambers of Commerce, can really help young entrepreneurs to avoid costly mistakes and spark new ideas by speaking with like-minded small and medium sized enterprises.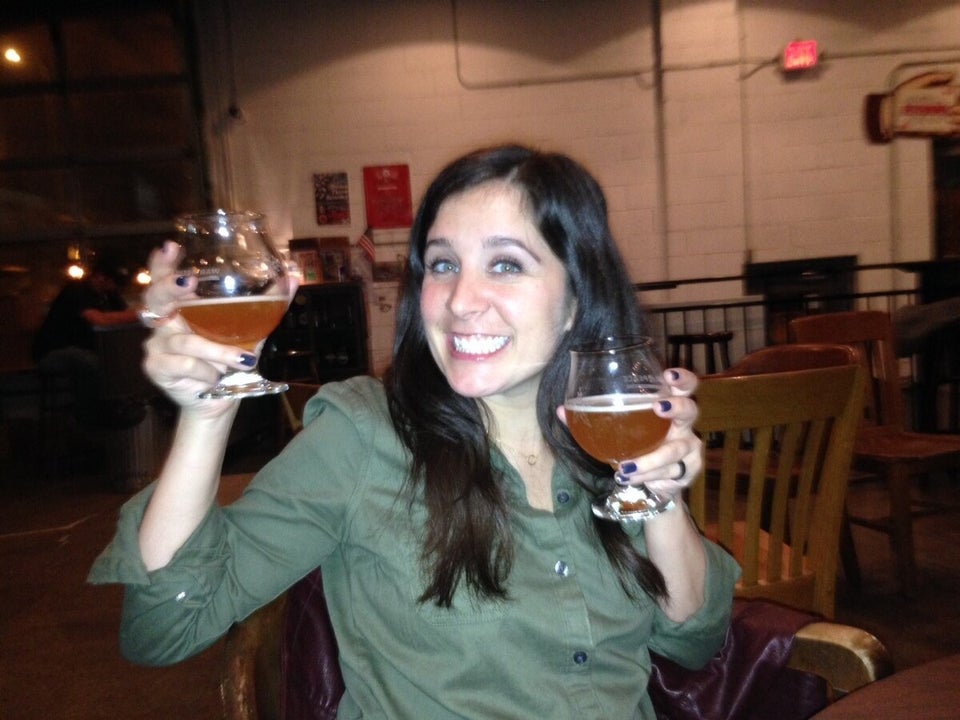 9 Entrepreneurs Share Their "A-ha!" Moments