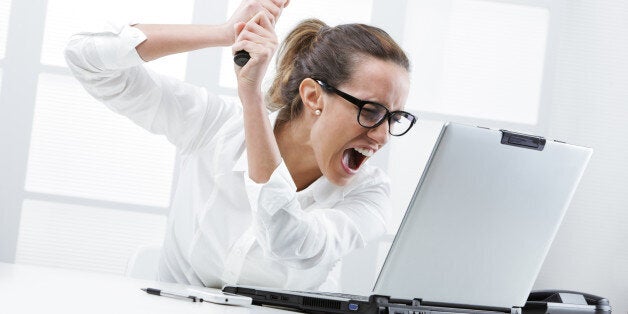 New statistics released by Akamai have revealed the shocking truth behind our connection speeds, with the UK ranking 18th worldwide at an average of 10.8 Mbps.
We're well above the global average of 4.5 Mbps, but still ranking low when we take into account all the government's effort to increase our speeds.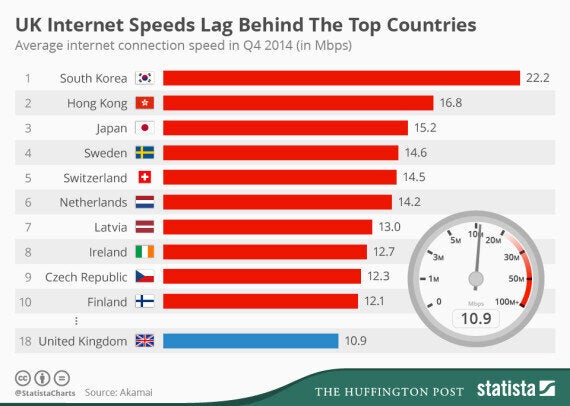 We managed to chalk up an average that was half the speed of world leader South Korea, who take advantage of 22.2 Mbps, meaning their Facebook feeds will load twice as fast as ours.
Our plucky little island drops even further in the rankings when it comes to peak internet speeds, maxing out at just 48.8 Mbps and landing 24th in the world ranking. To put that in perspective, the peak connectivity speed in Saudi Arabia is 484.4 Mbps. Australia, Kuwait, Japan and Singapore also hit triple figures.
The numbers also revealed that only 38% of UK internet users have access to high-speed 10 Mbps broadband.
INTERNET SPEEDS EXPLAINED:

A megabit is 8 times smaller than a megabyte - meaning a file of 10.8 megabytes will take 8 seconds to load at the UK average of 10.8 megabits per second.

MB = megabyte. Mb = megabit. Internet speeds are currently measured in Mb per second as standard.
"If we are the most wired with the fastest speeds, that is going to make the most success for our country."
The government claims a proposed boost to connection speeds - which we haven't seen yet - will bring in more high-tech companies and start-ups to boost our economy and help us compete on the world stage.
Luckily, we're not in Bolivia, where the average speed is a sluggish 1.2 Mbps. Venezuela and Paraguay also suffer with an average of 1.4 Mbps.
Overall it's good news - the world's average browsing speed went up by 20% from last year, meaning we're getting better connected across the globe.
The USA ranked top across the Americas and beat the UK at 16th worldwide, with an average connection speed of 11.1 Mbps.
Further data also revealed a decline in the use of both Apple and Android's native mobile browsers, with Safari and Android Webkit use dropping in favour of Chrome and other third-party browsers.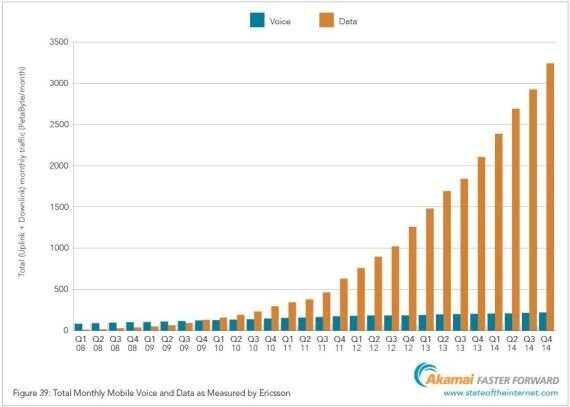 Increase in mobile data traffic since 2008
The study unearthed interesting figures with regards to Dedicated Denial of Service (DDoS) attacks - when artificially high traffic numbers are sent to a site to force shutdown. A huge 41% of the world's DDoS attack traffic came from China, more than all of Europe and the Americas combined.
The USA generated 13% of global attack traffic, being the world's second largest contributor to DDoS attacks - although these figures show where the IPs were registered, not necessarily where the attack came from. For example, any attacks coming from North Korea could have been routed through China.
Likewise, a hypothetical attack launched by someone in Canada could be routed through Papua New Guinea.
All statistics come from Akamai's State of the Internet report. You can find the full data set here.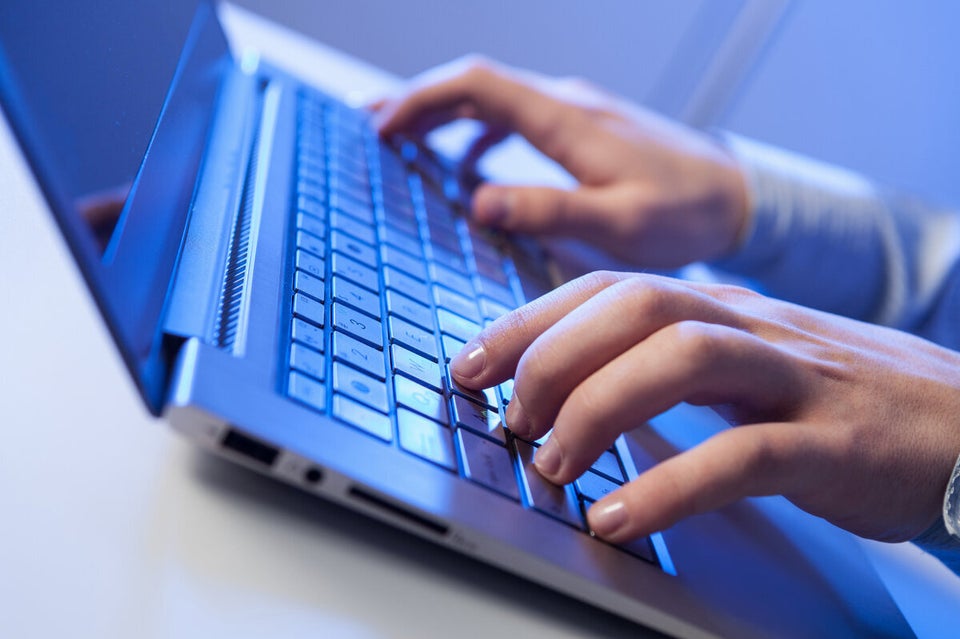 Fastest, Slowest Internet Speeds By Country
Related