The decision by the supreme Court of Cassation to overturn the convictions of Knox and Raffaele Sollecito is the final ruling in the case, ending the long legal battle waged by Ms Knox and her ex-boyfriend.
Kercher, 21, from Coulsdon, Surrey, was sexually assaulted and stabbed to death in her bedroom in 2007 while studying in Perugia, Italy. Arline Kercher, Meredith's mother, said she had heard little more about the decision other than the verdict.
She said: "(I am) a bit surprised, and very shocked, but that is about it at the moment. They have been convicted twice so it's a bit odd that it should change now."
Asked whether she had any plans following the ruling, she said: "I really don't know at the moment, I haven't got any plans."
Knox, when asked by reporters what she would say to the Kercher family, said: "Meredith was my friend. She deserved so much in this life."
The 27-year-old, who was Kercher's flat-mate and a student from Seattle in the US, and Sollecito, Ms Knox's then-Italian boyfriend, spent four years in jail for the murder but were acquitted on appeal in 2011.
Knox returned to the US before an appeal court threw out the acquittal and reinstated her and Sollecito's guilty verdicts last year.
But Italy's highest court has overturned last year's convictions and declined to order another trial.
Knox awaited for the verdict in her home town of Seattle. Sollecito, 31, had his travel documents seized while the court proceedings were continuing.
Francesco Maresca, the lawyer for the Kercher's family, was disappointed by the ruling. He said: "I think that it's a defeat for the Italian justice system."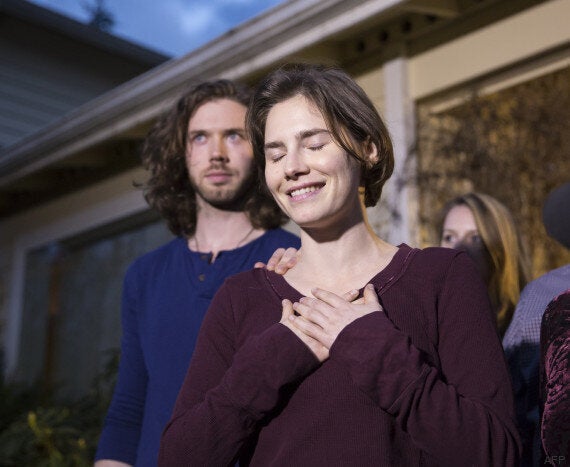 Amanda Knox reacts to the news
The judges will release the reasons for their decision within 90 days after concluding that a conviction could not be supported by the evidence.
Maresca said earlier this week: "The interest of the family is to arrive to the end of this trial. They want to be able to remember Meredith outside of the courtroom."
Prosecutors claimed Kercher, a Leeds University student, was the victim of a drug-fuelled sex game gone wrong.
But Knox and Sollecito consistently protested their innocence and claimed they were not in the apartment the night she died.
Rudy Guede, a drug dealer, is serving a 16-year sentence over her death.
A family friend of Knox, who has spoken on the phone to her family at their Seattle home since the ruling, told BBC Radio 5 live that "everybody is very happy to see this finished, so they can get on with their lives".
Greg Hampikian, a professor of biology and criminal justice at Boise State University in Idaho, worked on the DNA evidence for Knox's defence team.
He said of her: "I imagine she is feeling a lot better - she was under tremendous stress before this, and I think it was really starting to wear on Amanda.
"She's trying to start her life as a young woman, so hopefully this will be a really wonderful change and a new day for them and for Rafaele and his folks.
"I hope the Kerchers can find peace as well. It's just been an up and down thing for everyone for so long."
He also criticised the investigators in Italy, saying: "The evidence in this case clearly points to one perpetrator. The only DNA they found was the victim's and Rudy Guede's, and that should have been open and shut.
"The fact that they persisted in accusing two people against whom there was such slim evidence was really just a very bad way to continue with the case. It's fine to start with a hunch but you've got to drop it when you see the bad data."
Another family friend of Knox claimed the Knox family said prayers for Kercher last night.
Tom Wright, who has known Knox since high school and wrote a book about the case, said she was "relieved and grateful" that the court cases are finally over.
Wright said he was with the Knox family as they received the news of Knox's acquittal.
He told BBC Radio 5 Live Breakfast: "Quite frankly there were tears everywhere, everyone in the room. Regardless of age, gender everyone was weeping. It was just such a sense of relief.
"This has been eight years, she served four years that she didn't deserve. She came home, got her life back together and then again this came back and now finally it's all over."
Speaking about Knox, he said: "The world's going to see someone who is very compassionate for others and this experience has made her even more aware of people who might be in similar circumstances. She's an outstanding person of great character and I am just so pleased that people are going to see that."
Asked about his thoughts of Kercher and her family, Wright said: "I think there is a tremendous amount of empathy for the Kercher family and we are very hopeful that this helps brings some closure for them as well."
"There were prayers said for Meredith after the decision was announced. There have been thoughts of Meredith and great compassion for that family as well throughout all of this.
"We're just grateful that there is some resolution, at least to the legal case, so this does not drag on much longer for anyone."