Amanda Knox and Raffaele Sollecito, who maintained that they were innocent of Knox's British roommate's murder through multiple trials and nearly four years in jail, were vindicated Friday when Italy's Cupreme Court overturned their convictions once and for all.
"Finished!" Knox's lawyer Carlo Dalla Vedova exulted after the decision was read out late on Friday. "It couldn't be better than this."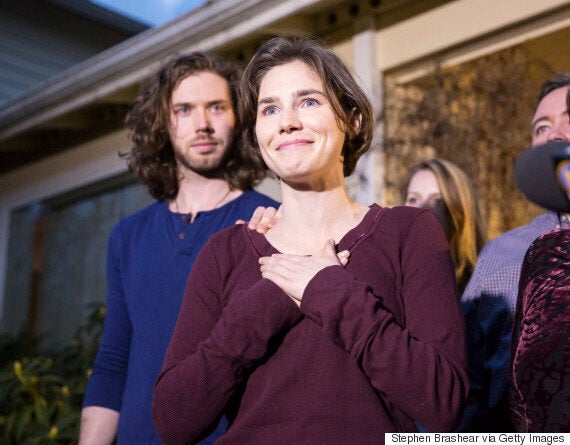 Amanda Knox speaks in front of her parents' home in Seattle on Friday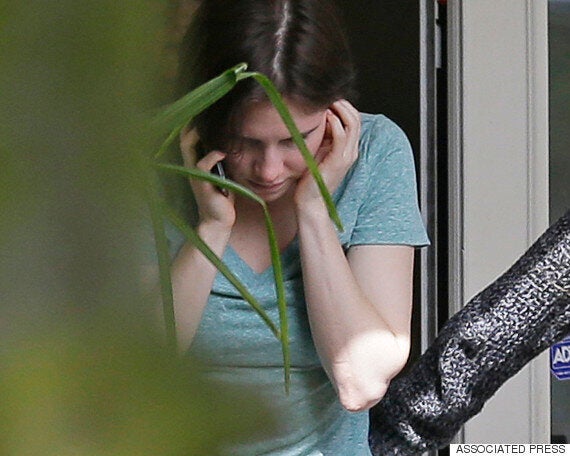 Listening to the verdict on the phone from the USA
The supreme Court of Cassation panel deliberated for 10 hours before declaring that the two did not commit the crime, a stronger exoneration than merely finding insufficient evidence to convict.
Had the court upheld the pair's convictions, Knox would have faced 28 and a half years in an Italian prison, if she could have been extradited from the US where she remained during the appeal trial, while Sollecito faced 25 years.
A shout of joy erupted from inside the Seattle home of Knox's mother as the verdict was announced. Several relatives and supporters filtered into the back yard, where they hugged and cheered.
"Right now I'm still absorbing what all this means and what comes to mind is my gratitude for the life that's been given to me," Knox said, speaking to reporters outside the home.
The case attracted media attention due to the brutality of the murder and the quick allegations that the young American student and her new Italian lover had joined a third man in stabbing to death 21-year-old Kercher in a sex game gone awry.
Flip-flop guilty, then innocent, then guilty verdicts cast a shadow on the Italian justice system and polarised observers on both sides of the Atlantic. Knox and Sollecito were convicted by a Perugia court in 2009, then acquitted and freed in 2011, then convicted again in 2014 in Florence after the Cassation court overturned the acquittals, and ordered a new appeals trial, which is what has just concluded.
Such a direct contrast in decisions by two high court panels is extremely rare.
Dalla Vedova said he called Knox to tell her the news, but said she couldn't speak through her tears.
"She was crying because she was so happy," he said.
Knox, the subject of far more attention than Sollecito, has sought to resume a normal life since returning to the United States three years ago, recently announcing her engagement and writing theatre reviews and human interest stories for a weekly newspaper in Seattle.
Kercher, 21, was found dead on 2 November, 2007, in the apartment that she shared with Knox and two Italian lawyers-in-training. She was half-naked, beneath a duvet soaked in blood with her throat slashed. Investigators determined she had been sexually assaulted.
2007

November 2: Kercher, a 21-year-old exchange student from Coulsdon, Surrey, is discovered with her throat cut in her bedroom at her house in the Italian town of Perugia. Her body is partially clothed and under a duvet.

November 4: A post-mortem examination reveals evidence of sexual activity at some point before Kercher died.

November 6: Police arrest Kercher's American housemate Knox, then 20, Mr Sollecito, then 23, and Congolese Diya 'Patrick' Lumumba, who runs a local bar. Police claim Kercher was murdered because she refused to take part in violent sex. Knox is said to have broken down and confessed and implicated Lumumba. The three are held on suspicion of conspiracy to commit manslaughter and sexual violence.

November 11: Kercher's body is flown home. Knox's mother, Edda Mellas, says Knox did not hear Kercher's screams the night she died and was with Sollecito at his house.

November 19: A fourth suspect is named as Rudy Hermann Guede, 20, from the Ivory Coast. He is thought to have left Perugia for Milan after Ms Kercher died.

November 20: Guede is arrested in the German city of Mainz. Lumumba is released without charge.

November 22: Guede admits being in Ms Kercher's house on the night of the murder but says an Italian man he did not know committed the crime.

2008

September 9: Guede's lawyers say he will ask to be prosecuted separately from Knox and Sollecito in a fast-track trial after talk of a possible pact between the former lovers to frame him.

September 16: All three suspects appear before a judge in the first of a series of pre-trial hearings in Perugia. Judge Paolo Micheli grants Guede's request for a fast-track trial.

September 26: Knox and Sollecito come face to face in a closed courtroom for the first time since being detained after the murder.

October 28: After 11 hours of deliberation, Judge Micheli sentences Guede to 30 years for the murder of Kercher. He also orders Knox and Sollecito to stand trial for murder and sexual violence. Judge Micheli later rules that the pair remain in prison while they await trial.

2009

January 16: The trial of Knox and Sollecito begins.

February 6: Sollecito tells the court he is not violent and has nothing to do with the case.

June 6: Kercher's parents, John and Arline, give evidence. Mrs Kercher says she will never get over her daughter's murder.

June 12: Knox gives evidence in fluent Italian. She says she accused Lumumba "in confusion and under pressure" and that a police officer hit her during interrogation.

November 21: Prosecutors ask for life sentences for Knox and Sollecito.

December 4: Knox and Sollecito found guilty of murder. Knox is sentenced to 26 years and Sollecito to 25. Knox's family say they will appeal.

2010

November 24: Knox and Sollecito return to court in Perugia for their appeal.

December 11: Knox breaks down in tears as she makes an emotional courtroom appeal, saying she was the innocent victim of an "enormous mistake".

December 16: Italy's highest criminal court upholds Guede's conviction and prison sentence, which was slashed to 16 years in his first appeal.

2011

June 27: Guede gives evidence for the prosecution in the appeal and confirms the contents of a letter he wrote to his lawyers in 2010, which included a direct accusation against Knox and Sollecito.

July 25: Experts tell the appeal court that forensic scientists who helped convict Knox made a series of errors. Evidence was tainted by the use of a dirty glove and failure to wear protective caps, they claim.

September 7: Appeal court rejects prosecution request for new DNA tests.

October 3: Knox is freed from prison after being acquitted of killing Kercher. Sollecito is also cleared.

October 4: Kercher's brother Lyle says her family accept the court's decision but says questions remain unanswered about what really happened.

2012

February 16: Publisher HarperCollins announces it has signed a deal for a Knox memoir which was reportedly worth £2.5 million. The book, Waiting To Be Heard, is released in April 2013.

April 29: Kercher's father John appeals to Guede to finally ''come clean'' and reveal what really happened the night she was stabbed to death.

2013

March 26: Italy's highest criminal court overturns the acquittals of Knox and Sollecito.

September 30: The third trial of Knox and Sollecito begins in Florence.

December 17: Knox declares her innocence in an email submitted to the appeal court in Florence by her lawyers before their closing arguments in which she says: ''I didn't kill Meredith.''

2014

January 30: The pair are found guilty of the murder of Kercher after judges in Florence overruled their previous acquittals. Knox is sentenced to 28-and-a-half years and Sollecito to 25 years.

2015

March 25: Italy's high court hears Knox and Sollecito's appeal of the Florence conviction.

March 27: After lengthy legal arguments Italy's supreme Court of Cassation overturns the conviction and declines to order another trial. This is the final ruling in the case, ending the legal battle waged by Knox and Sollecito.
DNA evidence in Kercher's room led police to arrest a man from Ivory Coast, Hermann Guede, who was convicted of the murder in a separate trial and is serving a 16-year sentence.
The court that convicted Guede ruled he did not act alone, citing the absence of defensive wounds on the victim and concluding that bruises on Kercher's arms indicating she was restrained while one or two others inflicted numerous stab wounds.
In closing arguments, Knox's lawyer Vedova attacked what he called the absence of any physical trace of Knox in the room where Kercher was found and highlighted doubts about the presumed murder weapon, a bread knife found in Sollecito's kitchen drawer that bore Knox's DNA - which the defense said was from kitchen use.
Though it cleared Knox of murder, the supreme Court of Cassation upheld a slander conviction against her for wrongly accusing a Congolese-born bar owner in the murder. The court reduced the sentence to three years. Since Knox already spent nearly four years in Italian prison, she won't have to serve that time.
The defense lawyer said Knox's false accusation of Guede was coerced by police and obtained without being advised she was a suspect. He has challenged the slander conviction with the European Human Rights Court in Strausbourg.
Sollecito's defense lawyer, Giulia Bongiorno, argued there were errors of `'colossal proportions," in the guilty verdicts.
Sollecito, who turned 31 on Thursday, sat in the front row of the court during hours of arguments over two days, a new girlfriend by his side. He returned to his home in southern Italy to await the decision followed by Italian police, thought to be ready to act in case his conviction had been upheld.
"You have your whole life ahead of you now, Raf," Sollecito's lawyer, Luca Maori, told the Sollecito by cell phone from the steps of the courthouse under the glare of TV cameras. Sollecito has completed his computer science degree, but has said the notoriety surrounding the case has made it difficult to find a job.
Speaking to reporters, Maori added: "He almost couldn't speak. Eight years of nightmare over."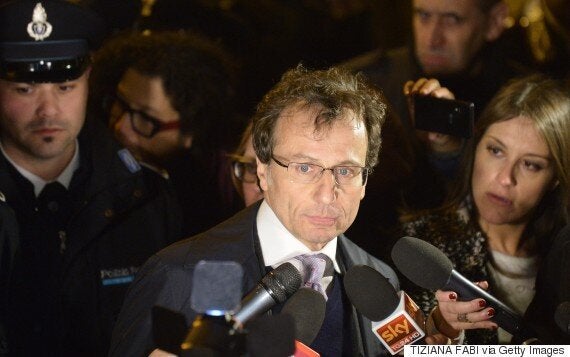 The Kercher family's lawyer Francesco Maresca talks to journalists as she leaves the court
Meredith Kercher's family attorney, Francesco Maresca, was disappointed by the decision.
"I think that it's a defeat for the Italian justice system," he said. `'Whoever was Guede's accomplice does not have a name."
Kercher's mother, Arline Kercher, told Press Association that she was "a bit surprised and very shocked."
"They have been convicted twice so it is a bit odd that it should change now," she said.
Also disappointed by the decision was the bar owner, Diya `'Patrick" Lumumba, who was jailed for two weeks after Knox falsely accused him of the murder. He is convinced of Knox's guilt.
`'It is a strange justice for me, long, uncertain, a little opaque, a lot of darkness," he said outside the courtroom. `'This is a judicial error in Amanda's case."
The couple maintained their innocence, insisting that they had spent the evening together at Sollecito's home, watching a movie, smoking marijuana and having sex.
Related