Chadwick Boseman was doing OK on the small screen, carving out a niche for himself in shows such as 'ER', 'Persons Unknown' and 'Lincoln Heights'. Then he was offered the role of baseball great Jackie Robinson in the film '42'... oh, and then he fought off far more celebrated film-openers to grasp the role of soul legend James Brown, and hold onto it for dear life.
With the DVD release of biopic 'Get On Up' - following young James from a deprived childhood in the Deep South to his status as one of the world's most influential entertainers - Chadwick Boseman tells HuffPostUK how he wasn't even looking to play a real person at the time he got the gig...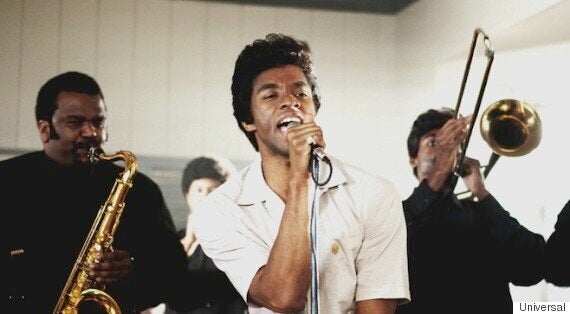 Chadwick Boseman plays James Brown in the biopic 'Get On Up'
Chadwick says... It is not what I was really looking for after doing 42 because, if anything, at the time I was looking to do something different than playing a real person. I knew that everything about the role was going to be hard, so ultimately I guess I liked the challenge of it all.
What concerned you about that challenge?
I was concerned about the parodies of James Brown that have been done and what the tone of the movie would be. My initial reaction to the offer was negative until I read the script and met up with filmmaker Tate Taylor.
What did you think of the script when you read it?
I thought it was very interesting. I liked the way it was structured out of chronological order and had its dark and light moments. It was the type of role an actor would want to do, but then I had to also take into consideration that the person I was playing was someone as iconic as James Brown.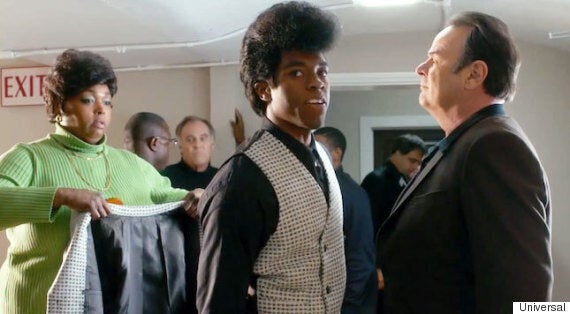 Chadwick Boseman co-stars with Dan Aykroyd as James Brown's manager Ben Bart
Were you a fan of James Brown growing up?
Of course! I was a big fan of his and very aware of the effect that his music had on my parents and other people.
Can you list some of his songs that have resonated with you?
I liked "I Got You," "It's a Man's Man's World," "I Got the Feelin'" and "The Payback," which has been used in so many hip hop songs. Probably the song with the most significance for me is "Say It Loud - I'm Black and I'm Proud," although I didn't really understand the history that created that song or others like "Don't Be a Drop-Out" and "I Don't Want Nobody to Give Me Nothing" until now.
You didn't have that much time to prepare for such a rich and complex role. How did you do it?
I just threw myself into it with reckless abandonment. I started early every morning with five hours of dance rehearsals, and then after lunch I would have some vocal singing and speaking lessons to continue bridging the gap between James Brown and myself. Later I would sit down and read for a couple of hours and watch some footage to complete my research. That's what I did every day!
Watching the movie we learn about the tough upbringing James Brown had.
James was abandoned by his mother, and then his father went into the army and left him with his aunt in a brothel. There he was told to help out to earn the right to be there. He never had that unconditional consistent family love in his life that most children have.
One of the key relationships in the movie is between James Brown and his best friend Bobby Byrd.
think James Brown viewed Bobby as his brother. He was pretty much the only person who stayed present in his life throughout the years no matter what. They had their periods of time when they were feuding, but they ended up dying nearly a year apart.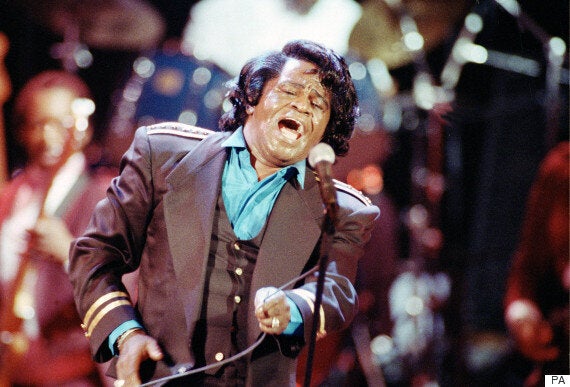 Chadwick Boseman considers James Brown to be 'the Godfather of Soul'
What about Dan Aykroyd, who plays Brown's mentor and manager Ben Bart?
I can say the same thing about Dan what I said about Nelsan. Dan brought an energy to me that was so helpful. Maybe it was because he knew James Brown, but the truth is that he delivered in his performance the exact authenticity of a person that would be managing him in that way. It was exactly what he was supposed to be.
James Brown and Ben Bart were good friends in real life. We see that relationship on screen.
James Brown called Ben Bart "Pop" because he was his mentor and like a father figure to him. As he was his friend, there was a kind of looseness to their relationship. Pop was one of the few people that could call him Jimmy.
How was it to shoot all those musical performances?
A: We had prepared for them and, to be honest, I was just so happy to get to those days when we actually shot them. I enjoyed the musical performances immensely to the point where I was sad when we did the last one. I remember thinking I still had some moves that I had not had a chance to do! We joked about that.
Speaking of joking, the film also has good amount of humour in it.
'Get On Up' found a way to be humorous without ever making fun of James Brown because it has a beautiful tone. That was a difficult balance to strike, but Tate (Taylor, director) found a way to do it. Maybe it's because of his Southern upbringing, which enables him to laugh at things that can be dark.
The film was shot in the South. Did you enjoy your stay in Mississippi?
I enjoyed it very much! Natchez, Mississippi has a beautiful history. The people in really welcomed and appreciated us. I thought it was very good for the film to be there.
Another interesting aspect of 'Get On Up' is how you break the fourth wall and address the public at times.
Yes, the truth is that I was wondering whether it would work because people have seen that a lot of times. However, it did work! To do that as James Brown was just a lot of fun.
Do you think James Brown would have enjoyed this movie?
I think James Brown would have really enjoyed the film, although I am also sure he would have had some notes.
Now that you have successfully embodied James Brown on the big screen, who would you say James Brown was in your eyes?
James Brown was a maverick and a game changer, which is why I believe the best way to describe him would be as the Godfather of Soul. James Brown made music that speaks to us in a very deep way, sometimes in an inexplicable way. A lot of his music has touched the soul of many artists.
What would you say you have learned from this whole experience?
I learned that somehow I was able to do things I didn't think or was aware that I could do. It made me appreciate this opportunity even more.
'Get On Up' is out on Blu-ray and DVD now. Watch the trailer below...