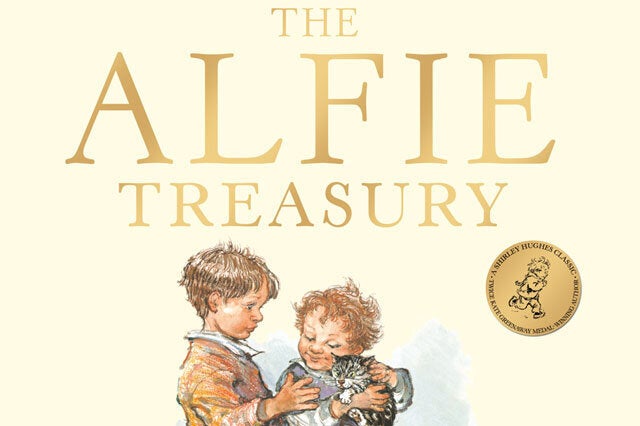 It's hard to choose just one Alfie book. They are all so good.
Alfie is a little boy whose world is cosy, safe and familiar. Shirley Hughes portrays the dramas of his pre-school life with such depth, humaneness and sensitivity – in The Alfie Treasury, which brings several stories into one volume, we see him learning to put on wellies, going to a birthday party, locking his mum and baby sister Annie Rose out of the house, making friends with a big boy, and playing while the bathroom floods. Such simple events make profound stories, which parents love reading as much as children love to hear them.
It's a delight to get lost in the pictures full of thoughtful, beautiful detail. My four-year-old son immediately recognises himself in Alfie – Alfie is an everyboy. He loves life – he's excited by discovering everything, but sometimes he's also naughty, or scared.
One of the things I love best about the Alfie stories is Alfie's relationship with his sister Annie Rose. Both his occasional irritation with her wanting to play with his toys and his adoration of her are captured (as Hughes explains in Alfie's World, 'one nice thing about her is that she always thinks Alfie's jokes are funny.').
Shirley Hughes is also famous for many other characters and books, of course. There's Dogger , an Alfie-like story about a boy who loses his toy dog. The 1970s illustrations (Mum's brown flares) are charming and remind adults of their own childhoods.
And then there are the Lucy and Tom books – I've still got my childhood copy of Lucy and Tom at the Seaside (now published in The Shirley Hughes Collection, which captures the thrill of picnicking on the sand.
And the stories about Lily – a little girl who has 'bad days' and is very attached to her toy dog Bobbo.
With Shirley Hughes, the details stay with you all your life – the donkey in Lucy and Tom at the Seaside called Sarsparilla; the children in fancy dress in Dogger; the way Annie Rose follows Alfie around.
Shirley Hughes, OBE, is one of our best-loved children's author-illustrators. She was born in 1927 near Liverpool and studied Art, then became a freelance illustrator, working on other writers' books, including Dorothy Edwards' My Naughty Little Sister books, and titles by Noel Streatfeild, Alison Uttley and Margaret Mahey.
It was only when her own children were small that Shirley started to write her own children's books. Lucy and Tom were her first creation in 1960; Dogger came along in 1977 and the first Alfie book, Alfie Gets In First, was published in 1983.
You can find out more about Alfie and his world, play Alfie games, and discover Shirley Hughes' other books at the Alfie website [http://www.alfiebooks.co.uk].
I want to read everything Shirley Hughes has created.