There wasn't a dry eye in the house when YouTuber Daniel Buccheri delivered a heartfelt best man's speech at his brother's wedding.
The Melbourne musician used his vocal talents to pay tribute to the happy couple with a parody medley of six different songs, all incorporating everything a best man's speech should have.
He started with Sam Smith's 'Stay With Me', outlining how happy Adrian and Sarah made each other before moving onto a jokey rendition of 'Ignition' by R. Kelly and a few other hits.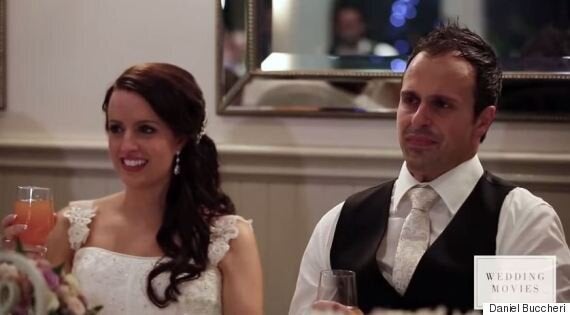 Daniel's brother Adrian and new wife Sarah were teary-eyed throughout the surprise performance
The Australian singer also used 'Hey Soul Sister' by Train to welcome his new sister-in-law into their family and wish them the best in life.
"People have been saying how much they teared up, not knowing us and not knowing the family. If I can make the impact with a wedding speech, then hopefully I can do that with my own music."
He decided to go with an unconventional best man's speech at the last minute while struggling to put something together, and even snuck his keyboard into the venue so it would be a total surprise for the happy couple.
"When I wrote it, it was partly due to stress because I knew I had to write something and I left it quite late," he said. "I didn't expect it to go viral, it was just something that came out and fell together like it did.
"It just had all the right elements."
Related