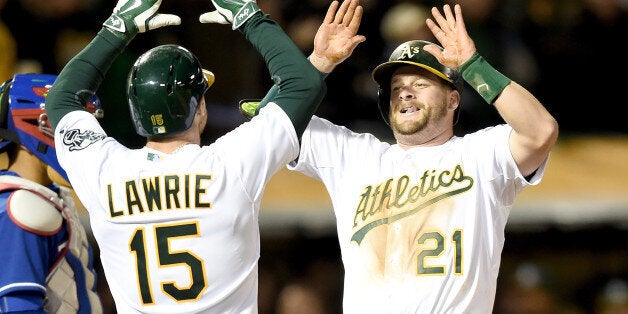 The girlfriend of a baseball player has responded brilliantly to homophobic fans after the announcement of their team's LGBT Pride event was met with abuse.
Pitcher Sean Doolittle's girlfriend Eireann Dolan is organising an LGBT Pride night for the Oakland Athletics on 17 June, but one tweet from the team's official Twitter account prompted a torrent of bigoted responses from supporters.
One tweeter said "just unfollowed, want no part of that," while another said "Parents please note, this is not a game you want to take your kids to."
The Pride night invited fans to cheer on the Oakland A's while wearing rainbow wristbands, but many took offence to the idea and threatened to sell their tickets for the night, and even some season ticket holders announced their intention to jump ship.
"Everybody is entitled to their own beliefs and as long as nobody is getting hurt, I'm happy. I also can't stop you from selling your tickets," she wrote on her blog. "I won't tell you that you are wrong or that you are not allowed to think or act that way."
She continued, "So, A's fans; if attending a baseball game on LGBT Pride Night makes you at all uncomfortable, it is probably a good idea to sell your tickets. And I have the perfect buyer. ME!"
"That way you don't have to feel uncomfortable, and the seats don't go to waste. It's a win-win," she wrote.
The Oakland A's released a statement to Mercury News in response, saying: "We are hopeful that the support that has been expressed for the event in the past few days will make it an even more successful first-year event and demonstrate that the A's organization welcomes and supports the inclusion of all fans."
"My biological mom Kathy and her partner Elise (who grew up in the Bay Area) are both die-hard A's fans as well as super gay," she says.
"Like, they're so gay for each other that they've fostered a long-term loving relationship likely no different from any heterosexual loving relationships you've seen or been a part of."