"You might grin at this one," James said at the event this morning, "and I'll allow you to do that. We do want to see VAT removed from sanitary products for women here in the United Kingdom."
The UK government imposes the tax on sanitary products as a result of an EU law which classifies them as "luxury" items which must be taxed at a minimum of 5% - even though things like helicopters, medical products and even marshmallow teacakes are not taxed.
Campaigners have been calling for the government to pressure the European Parliament - which Ukip plans to sever ties with - to exempt sanitary products, which would mean applying the new rule to every member state.
James said the tampon tax was "something that I feel very strongly about."
"I happen to be an MEP and I still cannot believe the the European Union sees it appropriate to penalise women in that instance. For the EU to think, and consider, and voice that they see sanitary wear as non-essential, luxury items I think really is open to question," she said.
David Cameron was asked whether he would take the tax off sanitary products in March, and said that he will "take a look at the issue". No other parties apart from Ukip have specifically said they will drop the tax.
Tax has been imposed since the UK joined the Common Market in 1973, but VAT on the products was dropped from 17.5% to the minimum of 5% in 2001, after a long campaign by the Labour MP Dawn Primarolo. But EU law prevents sanitary products from escaping tax entirely.
James joined another senior female Ukip figure, Suzanne Evans, in rejecting suggestions the party was too 'blokeish'.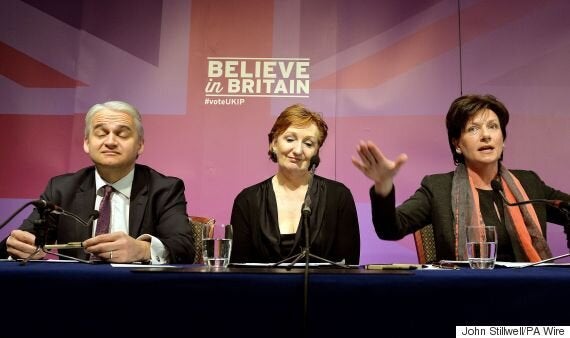 Ukip's (left to right) Patrick O'Flynn, Deputy Chairman Suzanne Evans and Diane James MEP at a press briefing in central London where they unveiled their party's policies for women
They attacked repeated references to ex-Ukip figure Godfrey Bloom who was sacked for calling women 'sluts', and "propaganda" from other parties.
At the same event, economics spokesman Patrick O'Flynn admitted the party needed to "work harder" to close the gender gap in its support, but pointing to the two women alongside him who hold leadership positions in the party said things had improved.
Asked about Ukip's "blokeish" image under Nigel Farage, MEP James said: "Can I put on the record for everybody here - Cameron's cuties, Blair babes, and the infamous situation in the House of Commons of 'calm down dear'?
"That did more in my opinion and in discussions I have had with women across the United Kingdom to denigrate, they felt quite insulted and I certainly felt insulted by that.
"Nigel has made comments. I would dare to contradict the position they are always as inflammatory as the media would like to pose.
"But what I would say in terms of the position that Ukip takes on women and representation we have in the party, just look at the contingent of women MEPs in the European Parliament. It is far higher than any of our political colleagues."
Bloom was forced out of Ukip in September 2013 after branding women who do not clean behind the fridge as "sluts".
Evans, the party's deputy chairwoman, said she had "put her head in her hands" at some of the things Bloom said, insisting she had personally challenged the former MEP on his views.
She rejected questions about Farage's comments on Labour's Rachel Reeves planning to enter cabinet while heavily pregnant, insisting "Nigel never said that" and on breastfeeding in public, adding: "It was the presenter of the programme who suggested women should sit in the corner, Nigel never said any such thing.
"I think anyone who gets upset about breastfeeding in public and goes out to buy The Sun is a hypocrite. Nigel never said that."
O'Flynn said he would be "slightly more self critical", adding: "Nigel has said sometimes Ukip has resembled a rugby club on tour. I think that's becoming less and less true and indeed the two top rank female politicians sitting alongside me today are two of the main reasons for that.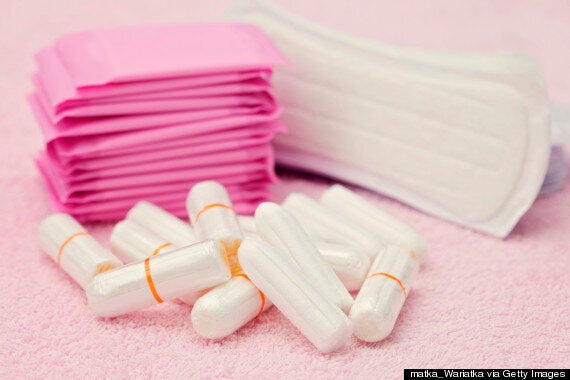 Campaigners are demanding an end to the 'tampon tax'
"But we need to work harder and there still are occasions where people in the party, men in the party, who should know better, have occasionally resorted to boorishness or chauvinism. When that happens I make sure I express my own displeasure."
Ukip's other announcements aimed at women included direct access to specialist mental health treatment for all pregnant women, and women with children under 12 months, in an attempt to address post-natal depression among new mothers.
James, who stepped down from standing to become an MP in North West Hampshire in March for "personal reasons", said Ukip's tax reforms would take the lowest-paid workers in the country – most of whom she claimed are "typically women" work part time of self-employed – "out of tax altogether".
She also addressed soaring childcare costs, claiming that parents are paying an average of nearly £120 a week for care for their kids. James said it was "shocking" that "nearly 60% of local authorities are not fulfilling their legal obligation to provide childcare services".
She said Ukip would aim to reduce the cost of childcare, and offer a wider range of providers for parents to choose from.
For the 6.5 million carers in the UK – 60% of whom are women, she said – Ukip would commit to increasing carer's allowance in line with inflation, and a commitment to keeping carer allowance at or above the jobseekers allowance rate.
"Only last year, the EU saw fit to tell the United Kingdom to double jobseekers allowance rate, well that will raise a very, very interesting question which I suggest you pose to our opposition parties, as to how they will justify that in terms of their costings," she added.
She stressed that Ukip supported the current arrangements for all maternity and paternity rights and adoption leave.
The other announcements included breakfast and after-dinner clubs for all school-age children, and 3,000 more midwives for the NHS.
Related