The second she touched down at Coachella Queen Bey shared a gif with her Instagram followers, which demonstrated how to nail dance-proof style.
Coachella is the first major festival of the year and it always serves as a handy barometer of the key trends that will be seen at festivals throughout the year.
Festival fashion is fast becoming a fashion season in it's own right. In the same way that designers launched cruise collections to satisfy customer demand for new looks mid-season, now brands such as H&M - which sponsored the event for the sixth year in a row - roll out dedicated festival collections.
So what were the key trends of Coachella 2015 that you can expect to see at festivals this summer?
Festival trend: Seventies
Unsurprisingly the catwalk trend for seventies inspired fashion led the pack, as expertly modelled by Beyoncé in the gif above.
"There's been a huge nod to 70s, 'I'm with the band' style this year at Coachella - think suede, fringing, fluid silhouettes and bohemian print florals," says freelance fashion journalist and HuffPost UK blogger Hannah Rogers.
"Sadly we Brits don't have the dependable desert weather, but if I was heading for a festival this summer, I'd be channelling Kendall Jenner's day two outfit: a gypsy-esque crop-top, high waisted maxi skirt and excellent gold accessories."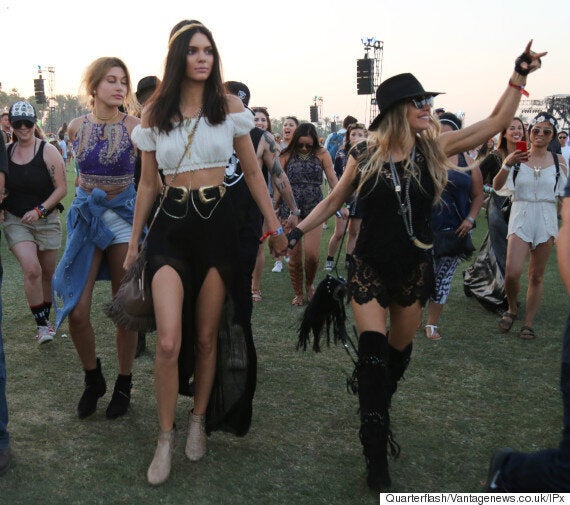 "Festivals are one of the only places where you are absolutely free to wear what you want without judgement or pressure - so the brighter and bolder the better, rainbow/psychedelic colours, or animal inspired costumes stand out from the herd," adds BritChick Paris, writer of The Ugly Little Girl.
"Also you can't go wrong with flower power chic, mellow yellow flares, floppy hats, big sunglasses - all perfect attire for blissing out."
"What caught my eye was model Rosie Huntington Whitely wearing Chloé straight from the spring/summer 2015 catwalk," says stylist and HuffPost UK blogger Julie Hurst. "It shows just how far festival dressing has come."
Model Jourdan Dunn proved that this evergreen festival style staple is still a must-pack item in 2015.
Lots of people used their denim shorts as a base with which to pair another of the festival's key looks: white or crop tops.
Festival trend: Flash tats
Back in the day (the mid-90s) these were known as tattoo transfers and weren't seen on anyone over the age of 12. However, that all changed when Beyoncé sported metallic temporary tattoos last September.
Sadly September temperatures are too chilly for displaying the skin necessary to show off a flash tat, but now the rest of us can finally enjoy getting in on this trend.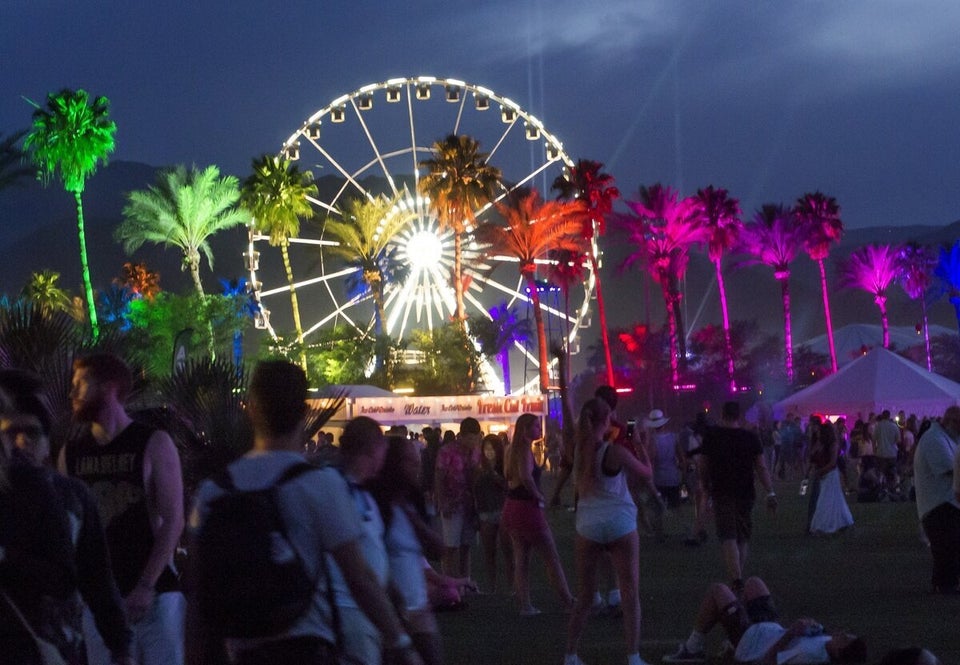 Coachella 2015