A mother-of-three has revealed how a boob job helped her to detect breast cancer and, as a result, saved her life.
Leza Davies-Brown, from Telford, Shropshire, was sorting through some washing when she knocked one of her newly enlarged breasts against a door frame.
The 33-year-old was then alerted to a small pea-sized lump on her breast, which she later found was cancerous.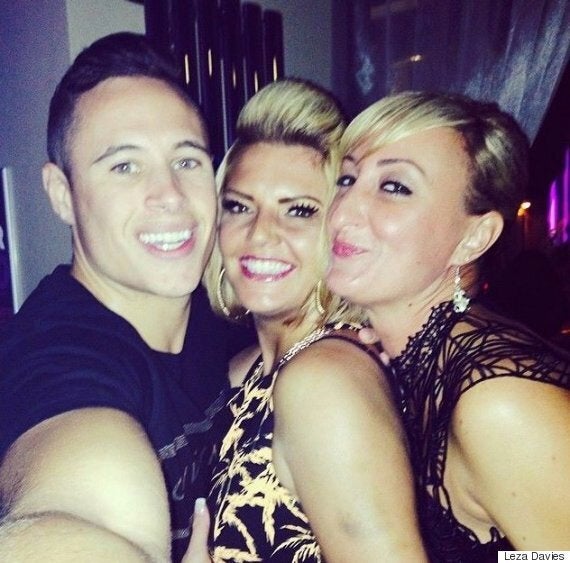 Leza Davies-Brown (centre) pictured with friends
Davies-Brown, who is a semi-permanent makeup technician, wanted to have her breasts increased from a 34A to a 34D after she found that breastfeeding had left them sagging.
She saved up £4,000 to pay for the confidence-boosting breast implants and was thrilled with her new look.
"I thought they would improve how I felt about myself. I didn't know they would save my life too," she said.
Around 55,000 people are diagnosed with breast cancer in the UK each year. Just over 80% of breast cancers occur in women who are over the age of 50.
Nearly half of all cases are diagnosed in people in the 50-69 age group.
Symptoms of the condition include a lump or area of thickened tissue in either breast, a change in the size or shape of one or both breasts, nipple discharge, a lump or swelling in either armpits or a rash on or around the nipple.
Davies-Brown noticed a small lump on her breast in April 2012 after knocking it on a door frame while she was stepping over some washing.
Just 30 years old at the time, she'd never really bothered to check her breasts for lumps before as she considered herself too young to develop anything serious - the risk of developing breast cancer under the age of 29 is one in 2,000, according to Public Health England.
"I didn't really think anything as I was young and very healthy," she tells HuffPost UK Lifestyle. "I would never have expected it to be cancer."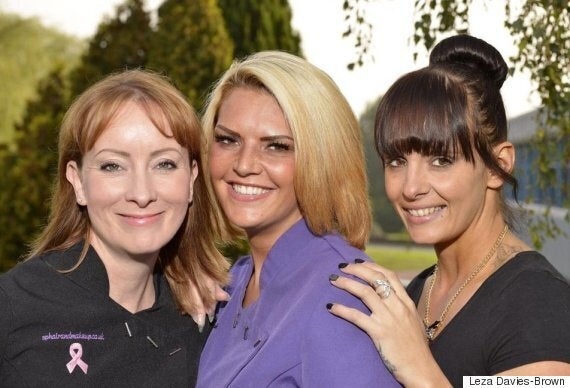 Leza Davies-Brown (centre) with fellow breast cancer survivors Kate Evans (left) and Trudi Perks (right)
Husband Tristan, 36, urged his partner to get the lump checked and, after undergoing various hospital examinations including a lumpectomy test, Davies-Brown was told that she had breast cancer.
"I was devastated," she said. "I just kept crying thinking I was going to die and imagining my children growing up without me."
Shortly after her diagnosis, the beauty technician began six months of chemotherapy and radiotherapy. But was dealt another hefty blow after being told that the cancer had spread to the lymph nodes surrounding her breast.
After undergoing surgery to have five cancerous lymph nodes removed, doctors revealed they were confident she was in remission.
But, her health came at a price, as they advised Davies-Brown that the treatment could have left her infertile.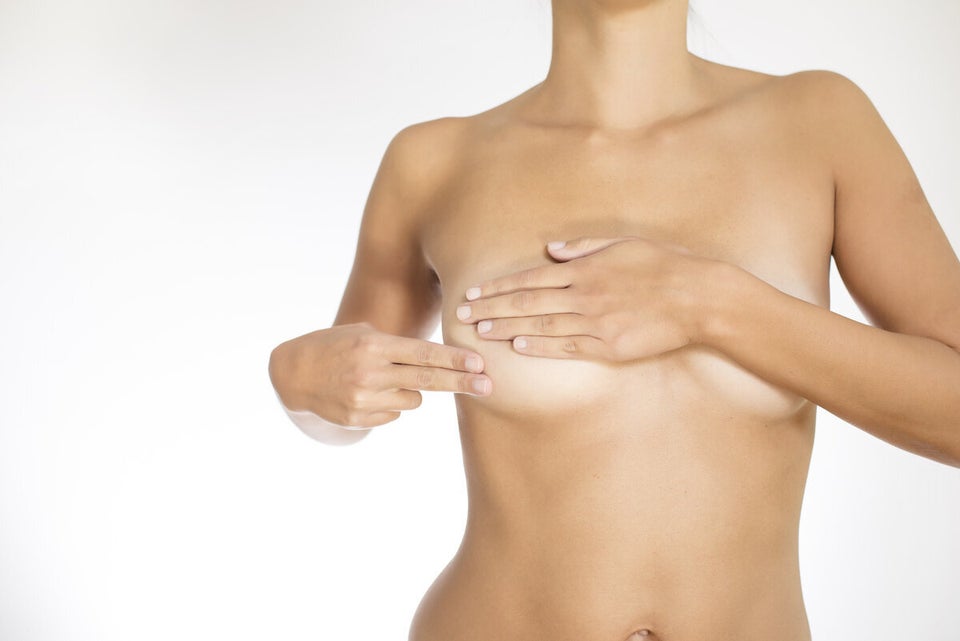 Breast Cancer Signs And Treatment
Davies-Brown, who has one son Brayden, now 12, and a daughter, Macy-Rayn, now five, was disappointed by the news. But was equally thrilled that she had been given the all-clear.
"I was just so happy to be alive. All thanks to my boob job," she said.
Getting her life back on track, she was soon dealt some good news after finding out she'd beaten the odds and was pregnant with her third child.
Araya-Maye is now nine months old and Davies-Brown describes her as her 'second miracle'.
Meanwhile the first miracle was discovering the lump in the first place. Especially as the chances of discovering the lump, which was less than a centimetre in size, were slim.
"My implants saved my life," she added. "I'd ask all women – however young – to check their breasts."