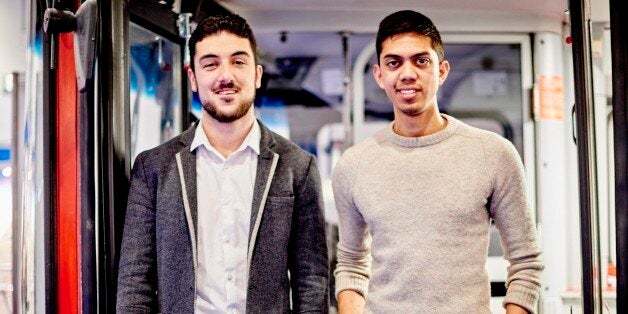 Starting up a business can always be a challenging process, and one that Rishi Chowdhury knows only too well, having set up three of his own.
That's why his new latest business, run alongside Co-founder George Johnston, revolves helping other people with business aspirations get themselves and their business concept ready for investment.
Rishi quit his job in 2013, raised £50,000 and converted a double decker London bus into an office to run his business from. IncuBus London is an innovate start-up incubator, which helps provide aspiring entrepreneurs raise the profile of their company and generate investment.
The Huffington Post UK sat down with Rishi to ask him about his career, Incubus London and his plans for future expansion.
How did you end up getting into business?
I always had an interest as I entered my teens, but I really got into it when I was at Kingston University. In my first year I saw an opportunity and took it, initially as a way to fund my self as a student. I was selling special edition trainers directly to students at campuses across the UK. This was when online shopping was just taking off. I managed to sell that after nine months, by which time I was hooked.
What challenges have you faced in starting your own business in the past?
I started a second business, organising student holidays, in my second year with one of my flatmates. But this time after nine months we conceded defeat and I had my first failed business. We learned very quickly that without strong processes in place things could become a mess and a mix of poor structure and planning as well as not hiring the right skills led to our demise. At least we had some great holidays along the way!
The other problem was our reliance on property owners. We had a number of mansions across the UK we used but after a couple holidays with students who were there to party hard; we unsurprisingly weren't aloud back! Not a good business model going forward.
We learnt a lot and it was a valuable learning experience. I'd say make sure you put your processes in place early, it will save time as you grow and always have a plan if if you end up deviating from it. It helps keep you focused on your goal.
So what exactly is IncuBus London and what do you do?
IncuBus London is an early stage incubator helping startups get accelerator ready. Over 3 months we take startups from an Minimum Viable Product stage through launch to getting early traction ready for funding and/or an accelerator programme.
We have over 150 mentors including experienced founders, investors and alumni from the likes of Techstars, Y Combinator and Seedcamp.
Our first office was on a renovated London bus which we use to tour around the UK pitching up at events, showcasing our startups and giving them the opportunity to meet investors from outside of London too. We also have a more traditional office in Camden for when the bus is on tour.
We end the programme with a demo week. We prefer this to a demo day, where they get up on stage with a formulated pitch for a big audience. Instead we hand pick investors and accelerators tailored to our startups and get them one on one meetings to pitch.
At this stage we just charge a fee for the programme and 0% equity. We're hoping to build a fund over the next year or so to be able to offer the option of some seed funding to our startups.
What has been your proudest achievement to date?
Watching our startups graduate. It's emotional, I'm not going to lie. My co founder George and I are always so proud to see the progress our startups have made. We do a video pitch with each of our startups on the first day and it's great to see the development of the business, and the individuals themselves, by the time it gets to demo week.
What are your plans for the future, both with IncuBus London and beyond?
With IncuBus London we hope to see more startups come through our programme, successfully get onto some of the worlds best accelerator programmes and continue progressing well into the future. We also plan to expand beyond London and have incubators across the UK and abroad in less established startup hubs which we can help grow.
I hope in the future I'll have the opportunity to be investing in startups in a personal capacity. I also hope I'll have the flexibility to travel more and visit the more remote parts of the world, as cliche as that sounds.
What advice would you give to young entrepreneurs looking to start a business?
Don't be afraid to get started because everyone in the startup world is making it up as they go along anyway. Learn by doing. Define your purpose and stay true to it, and lastly focus on your customers. A reputation built by users is far stronger than a reputation built by the creators.