Fitness fanatics rejoice!
HuffPost UK Lifestyle has teamed up with BULK POWDERS™ to offer one lucky reader the chance to win a £300 active lifestyle nutrition bundle - the perfect way to help support you as you work, train and play hard.
We understand that living a busy and active lifestyle can often be a challenge, and quite often it's our diets that suffer - so we're giving away a whole load of products to help you on your way.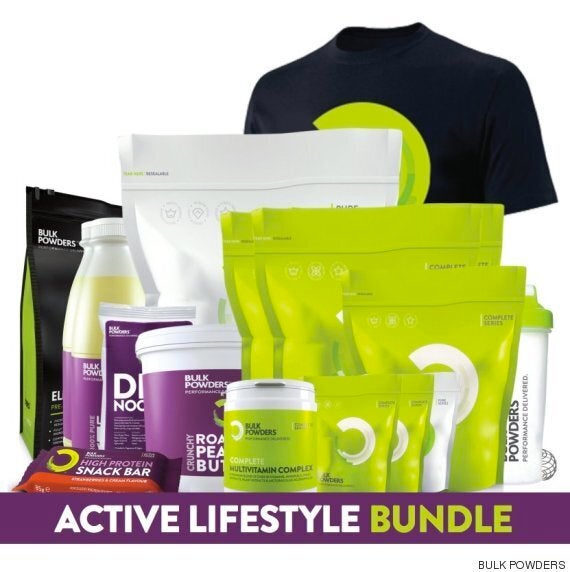 Pure Whey Protein (2 x 2.5kg)
ELEVATE Pre workout supplement
Super Strength Omega 3's (270)
Complete Multivitamin Complex (270)
Complete Breakfast Smoothie (1kg)
Liquid Egg Whites (6 x 1kg)
Complete High Protein Pancakes 1kg
Complete Protein Coffee (White - 500g)
Complete Protein Dessert (1kg)
High Protein Snack Bars (1 x box of 12)
BULK POWDERS™ is one of Europe's fastest growing sports nutrition companies, with an extensive range of supplements and a growing range of Active Foods™ including liquid egg whites, nut butters, seeds and omega oils, to help support active, healthy lifestyles.
Whether you want to build muscle, lose weight, or increase your sporting performance, BULK POWDERS™ has everything you need, from their popular flavoured whey protein powders to support muscle growth and recovery, through to multivitamins, fish oils and protein- foods, such as porridge, coffee and pancakes – lifesavers if you need a quick, nutritious start to the day.
Their range of products are all 100% transparent, so you know exactly what you're consuming. Not only this, their prices are the best in Europe, so you know you're always getting incredible value too.
To enter, click here and fill in the form by 27/04/2015.
Related