14 years later, Leeshon's made his own big screen version of the horrifying tale – writing and starring in 'We Are Monster', hinting at the demons that drove Robert Stewart to murder Zahid Mubarek on what would have been the Asian youngster's last night in the centre, where he'd been placed for 90 days for stealing razor blades worth £6.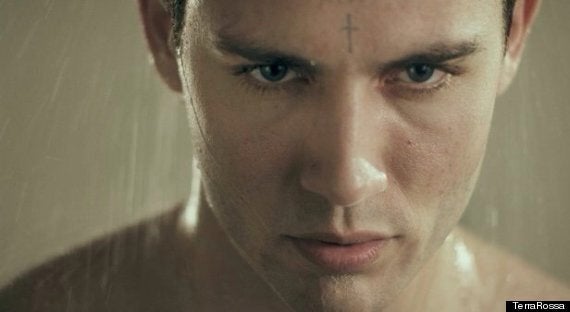 Leeshon Alexander plays Robert Stewart in 'We Are Monster'
The film was made partly at Twickenham Studios, and at a disused hospital in Gosport, and Leeshon is hardly recognisable in the role – emaciated, coloured hair, tattoos… Watch our Exclusive Clip above.
"I didn't go completely method, but I was well out of my usual routine. The focus was high, so it wasn't enjoyable," he remembers now. "But it was invigorating."
Despite being immersed in the tale, Leeshon had no desire to meet the man he portrayed.
"Our interest was to speak to the other side of things, so I didn't want to," he says now. "We were creating something quite surreal, not naturalistic. I wanted to form my own vision."
The message is clear from 'We Are Monster' that there are no winners in this story, that Robert Stewart didn't think he was racist, but his conceptions were blurred by his own ignominious upbringing. The film might be surreal in effect, but there is a clear social subtext.
"Mubarak's family recognised that Stewart was as much a victim as their own son," agrees Leeshon.
"This isn't a prison drama, it's a psychological exploration, of how society can contribute to creating monsters, through parenting, through prison services, through psychologists."
Leeshon's film received good reviews when it showed at Edinburgh Film Festival last month, but reception to this message has not been unanimous. He's unfazed…
"That's fair enough. We just wanted to get people talking about it, and asking questions. We're not going to change the system, completely,
"There are reports suggesting young offenders are worse than they were in 2000. This tragedy is statistically going to happen again at some point, so we just want to spark a conversation."
'We Are Monster' is released in cinemas 1 May, and available on VOD on 4 May and on DVD from 11 May. Click here for more information. Watch director Antony Petrou and Leeshon Alexander discuss the film below...
Popular in the Community